Does The Windmax HY400 500 Watt Wind Turbine Generator Kit Offer A Good Starting Point For Wind Power Generation?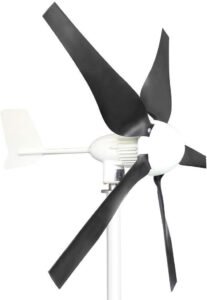 The option of generating green energy and going off-grid through solar power has gained a lot of fans in recent years, but the Windmax HY400 500 Watt Max 12-Volt 5-Blade Residential Wind Generator Kit is out to show users that it can be just as simple with wind power.
This generator kit contains a 5 blade wind turbine, generator, controller and general fixings – users have to supply their own pole or mounting solution – and comes with the promise of reliable, efficient power production. Can this little kit really make a difference?
Check Price and Availability Here
What benefits have users seen when testing out this Windmax HY400 Residential Wind Turbines?
Reports from users suggest that there some great potential in this product because it is helping them to generate their own electricity in a fairly simple way. The item is small and lightweight – at 45 inches high and 58.4 pounds – and users have the freedom to install it in the prime location for wind generation. It is also designed to maintenance free for easy operation and many buyers seem happy to just leave it running and see if they can gain any financial benefits.
There are a number of happy buyers that are pleased with their purchase because of the product's output. The wind generator  has a maximum wattage of 500w and a 12v system and buyers have received 18 amps at 6 meters per second.
The specification for this home wind turbine is full of interesting terms and features that suggest that it has been built for optimal performance, such as the use of electromagnetic braking and thermoplastic technologies, but reports show that there are some clear limitations.
What problems have buyers mentioned when discussing this Windmax HY400 500w Wind Generation System?
There are some clear problems to this product that have led to some low scores. To start with, it seems that this product is made for small-scale use because of the size of the turbine and comments about its durability. Some of the individual components seem to be off a reasonable quality but the problem comes when users place the product in high winds.
The bending of the blades suggests that the turbine just isn't strong enough for all conditions and raises questions over the longevity of the product. The other issue is seen with the installation. Many users have struggled to put this system together and those that have managed with reasonable ease have had prior experience.
The complexity of the system means that professional guidance from electricians is advisable. It also doesn't help that the instruction booklet provided is short on information and diagrams.
Summary: does this negative feedback mean that this Windmax Wind Generator is not recommendable?
There are some clear limitations to this product – both in terms of the package and the performance offered – and this suggests that this turbine is best used as either a starting point or as a backup system. Some buyers are happily using this to complement their solar system, but others will struggle if they rely solely on this kit for high power generation. If you are happy to spend the time and money on the best installation and to use this for small-scale operations, the Windmax wind turbine generator could still be worthwhile.
You can find more customer reviews about the Windmax HY400 500 Watt Max 12-Volt 5-Blade Residential Wind Generator Kit on Amazon here.