Sunforce 39110 – A Solar Power that can Last as Long as 25 Years
The Sunforce 39110 123-Watt High-Efficiency Polycrystalline Solar Panel with Sharp Module is one piece of power equipment with superb output (or 123 watts of power). In fact, you can link several of these indispensable panels together to provide more power for your home.
Easy to install, this Sunforce panel is a product that is touted as being low- maintenance as well as dependable. In fact, the Sunforce 39110 solar panel is designed and guaranteed by a warranty to last as long as 25 years.
Supply your Electrical Needs Conveniently and Easily
The Sunforce solar panel provides you with an economical and green way to supply electricity via the sun to your RV, boat, and appliances within your home. So, whether you are camping in a remote area or are needing a power supply at home, you can depend on the Sunforce 39110 solar panel to provide the electricity.
A Great Backup
What's more, you will have a backup source of power during any brownouts or blackouts. No longer do you need to depend on your municipality's electrical grid. In addition, powering your home or camper with solar panel power also means that you are not polluting the environment nor do you have to worry about calling an electrician for any repair.
Easy to Install
All in all, the Sunforce 39110 polycrystalline solar panel is able to produce the needed power supply, whether sun exposure is high or low and therefore can be a complement to your current power source. The solar panel also comes equipped with wiring and mounting aids as well as a voltage tester. So, the installation process is fairly easy.
The Panel is Linked to a Charge Controller
This solar power panel is made to be linked to a charge controller too, which must be purchased separately. The controller prevents the solar panel from becoming overcharged and thus harming the wiring and batteries. In addition, the controller adeptly stops a reverse current from depleting the battery's strength when operating at night.
Types of Batteries Used
If you have not used solar panel energy before, understand that the Sunforce solar panel converts solar energy into electric power. It does harness power for purposes of storage. The panels are used with batteries with a 12-volt output as well as auto batteries, heavy-duty batteries, gel-cell type batteries, and deep-cycle kinds of batteries.
Use the deep-cycle makes of batteries when you are using the solar panel for supplying power for appliances. In fact, the deep-cycle type of marine battery is well-suited to be used with solar panels, so look at these batteries first if you are seriously thinking of buying a solar panel kit for your home.
Let's Look at Features of the Sunforce 39110 Polycrystalline Solar Panel
Advanced polycrystalline design provides superior power output and is highly efficient
Multiple panels can be connected together for even more power
Maximum power output: 123 Watts/7.16 Amps
Easy to install and virtually maintenance-free
Sunforce 39110 Dimensions: 63 x 31 x 4 inches
Weight: 27.8 pounds
25-year warranty
Sunforce 39110 Polycrystalline Solar Panel Reviews
Positive Comments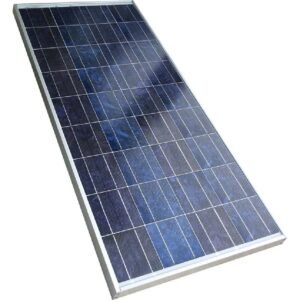 Consumers who used the solar system gave the Sunforce 39110 solar panel, generally, a five-star rating with almost all comments about the product positive. One consumer even said that he used a couple panels in areas that had a bit of shade and they still produced a decent amount of voltage.
However, he did indicate that the testers he received were not working properly. Therefore, he suggested surveying the unit before using it to make sure everything was operational. Nonetheless, although he noted some flaws, he was really happy with his purchase and rated it highly.
A Few Negative Asides
Besides the aforementioned comment about the defective testers, another customer felt that a consumer should do his due diligence first before picking a panel as he thought the price was just a bit high, and there were other solar panels that ran a bit cheaper.
However, for the most part, the majority of purchasers were well-pleased with the Sunforce 39110 solar panel and would not hesitate to buy other panels to use for powering their household or supplying electricity to their RV.
What Comes with the Panel
This Sunforce polycrystalline panel supplies more power than amorphous kinds of panels of the same size, thereby making this particular type solar panel a better choice for conserving space as well as cost.
Once you install this solar panel, you will hardly have to maintain it, if at all. When you order the solar panel, you will receive, besides the panel, a kit with a bracket for mounting, screws, voltage tester, clamps connectors, additional wiring, and a plug.
A Highly Reliable Product
You can use this solar panel and kit in a variety of environments, making it the perfect choice for anyone who wants to find a dependable, self-sufficient power source on which to rely.
Filed Under: Residential Solar PanelsTagged With: polycrystalline solar panel, sunforce 39110, sunforce solar panel