Is The Sunforce 37126 Solar Kit Able To Meet Your Energy Needs?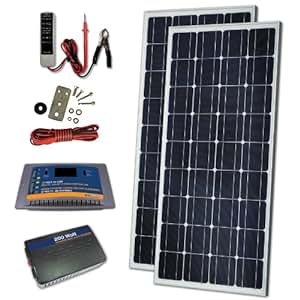 Solar power has gone from being a environmental luxury to a potential energy provider and money saver and the Sunforce 37126 Solar Kit appears to be the perfect example of that. It is marketed as a simple, efficient way to give your home a little more power via the sun.
This solar panel product claims to be ideal for charging 12V batteries and remote powering and the potential that this provides will appeal to many consumers. With its seemingly extensive kit – which contains two 130W panels, a digital controller, voltage tester and the means to attach it to the desired area – this is an attractive kit, but is it a worthwhile purchase?
>>Click Here for Best Current Price<<
Some Noted Features of the Sunforce 37126 Solar Panel Kit
High efficiency crystalline solar panels
Completely weatherproof for added durability
Ideal for 12 volt battery charging and use in remote location
Connect multiple kits for more power
30 A digital charger contoller
2 x 130 watt solar panels
200 W inverter and a voltage tester
Sunforce 37126 Crystalline Solar Panel Reviews
What Customers Said about the Product – Positive Comments
Users reviews for the Sunforce 37126 are a little mixed because of a number of pros and cons but most buyers seem to agree that once the device is up and running, it proves to be a reliable piece of kit.
Users are impressed by the construction and durability of the product, which is partly due to the added weatherproofing, and have not experienced any problem after leaving the panels outside for prolonged periods. Another surprising factor that has been highlighted is the performance in low light.
This Sunforce solar panel kit also has the benefit of being a versatile power source that can provide extra power around the house and garden, a feature enhanced by the fact that it can be hooked up to extra panels for a greater effect.
The uses of the panels are varied but buyers have mentioned their success in everything from charging some batteries and appliances in the garden workshop to adding extra lighting and electrifying fences.
A Couple of Complaints
As you can tell from the positive reviews, this Sunforce solar panel may have the power to operate a few appliances and light a shed but that hardly makes it a powerful contraption. This simplicity in its design and use has caught a few buyers off-guard because they claim that product received does not always match the description and pictures that are listed.
For example, the product is labelled as a "crystalline" kit with no expansion on whether this means mono or poly – something that some users are disagreeing about. Additionally, the construction of the kit is time-consuming and the process is made no easier by the inadequate instructions.
Summary: is the 37126 solar panel kit capable of meeting your power needs?
In short, it appears that anybody looking to buy this Sunforce solar product can do so with little risk but they should perhaps be a little cautious. It has a lot of potential if you are not dreaming too big because, as the testimonials show, it has been used effectively in modest operations and workshops – although you should not expect a overly powerful generator.
There are some definite flaws with the advertising and instructions but, overall, this Sunforce solar power kit can be recommended as durable, capable product for providing a little extra juice for your home.
You can check out more customer reviews about this Sunforce 37126 260W Crystalline Solar Kit at Amazon here.