Does The Durabuild Solar Powered Attic Fan Really Cool Attics?
As a small, self-contained unit with a solar panel on top, the Durabuild Solar Powered Attic Fan does not initially look all that powerful or functional; however, this attic fan promises thermostatically controlled temperature regulation for spaces up to 1850 square feet with its 20w panel and 24v motor.
This combination of solar power and high potential means it does not come as a great surprise that this product is the current best seller in roof vents on Amazon.com. This Durabuild vent has a strong appeal but is cooling attics to buyers' liking?
>>Click Here for Best Current Price<<
What benefits have buyers mentioned in their reviews for this Durabuild Solar Vent?
Naturally, the result that prospective buyers want to know the most about is the ability to reduce the temperature within the attic. The satisfaction rating for this product is impressively high and not only do buyers say that the temperature decreases significantly – with a clear drop of around 5 degrees – it performs well with immediate effect. There is also a shut-off system in place for when the room reaches a pleasant 65 degrees or there is excessive cloud cover.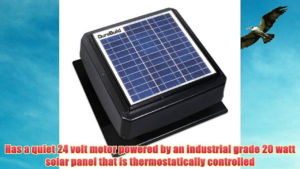 What has impressed buyers most here is the sense of quality because in addition to adequately cooling the room, it works very quietly and has a number of other features to ensure a high performance and longevity. The unit is completely self contained and this leads to two benefits for users – it prevents against damage, with a wire mesh included to stop rats and other creature interfering, and it does not look unattractive when the solar part is sticking out of the roof. Also, the panel can be adjusted for maximum exposure to the sun.
Are there any potential downsides to using this Durabuild 527S-DUB-106-BLK Roof Mount Solar Powered Attic Fan?
This solar fan is not a little gadget to help keep a room cool, it a substantial piece of equipment designed to make a massive difference to attic ventilation and this means that buyers will have to spend a lot of effort and money of getting it installed correctly so that it can live up to its potential. Of course with this being a solar model, the costs of running it are reduced so it balances out.
Some buyers have been able to install it themselves and the manufacturers state that it does not require an electrician. With the right parts and patience it is possible but some recommend paying out for a professional because of the complexity and the confusing instructions.
Summary: is this Durabuild Attic Fan still a worthwhile purchase?
The important thing to remember about this ventilation system is that it is an investment piece for long term gains rather than a quick fix solution so while it will cost a bit of money and time to get it installed correctly, it is all well spent for the great performance that this simple solar unit can offer and the noticeable, speedy impact that it has on cooling down an attic space.
In the end, it is the range of advantages experienced that makes this Durabuild solar attic fan such an appealing buy; the cooler temperatures are great but the lack of noise, attractive exterior and energy conservation really showcase the product's worth.
Click here to see what other customers are saying about the Durabuild 527S-DUB-106-BLK Roof Mount Solar Powered Attic Fan on Amazon.