Is The SUNKINGDOM 80W USB Solar Panel Charger Strong Enough For a Reliable Performance?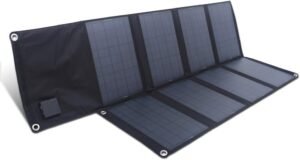 Portable solar panels are a great idea for campers that need an energy supply in the middle of nowhere and the SUNKINGDOM 80W USB Solar Panel Charger promises a great performance through a cleverly designed, folding system.
This compact device uses PowermaxIQ technology to charge phones and tablets as effectively as possible, an 80w panel with monocrystalline cells and comes with a DC5521 male to DC5521 male connector and a user manual. Is this system really strong and effective enough for campers needs or is there something missing?
Check Price and Availability Here
What benefits have buyers appreciated when testing out this SUNKINGDOM Solar Panel Charger?
There is a lot of praise in user reviews for the convenience and portability of this panel. Users can easily carry it around on camping trips and take it on hikes with little concern about it weighing them down and becoming a hassle.
At its largest, the product expands to 3ft long to catch as much sunshine as possible and is ultra thin to minimise the weight. At its smallest, it folds neatly into its bag for transportation. An additional benefit here is fact that the carrying pouch is also coated with a water-resistance lining and can be used to protect electronics as they are being charged.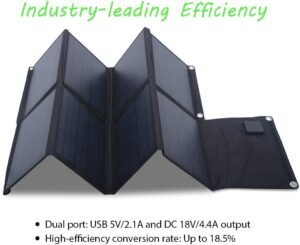 There are also some great reports about users charging their electronics when needed – from phones to laptops – with few problems or connectivity issues. The setup of the system and the design of the panels seems to be optimised for a great performance on camping trips.
A great example of this is the operational temperature range of -20 to 60 degrees Celsius, which is much lower than some had expected and allows users to easily charge devices in higher altitudes or colder months.
Are there any disadvantages mentioned in user reviews for this SUNKINGDOM 80W Solar Charger?
The main issue with this solar charger is the lack of power. There are users saying that it performs more like a 20w panel, which leads some to think that they overpaid, and this is even the case when the system is left out in full sunshine.
The power output is often enough to charge small electronics and allows users to get by, but it doesn't have the strength and reliability that many had hoped for. Users also say that the charge time can be a little slow as a result, although it will charge everything fully eventually.
Summary: how does this power issue affect the recommendation for this portable 80 watt solar panel charger?
The lack of power has meant that some users have upgraded to a more substantial model, but many are still happy to award the product 4 stars because of the other benefits they have received. In the end, it all depends what you are buying this product for – the power or the portability.
If you are looking to use a small, compact system on a hiking trip for small-scale electronic charging, this SUNKINGDOM solar charger can still provide a great performance and is recommendable because of the ease of use and the thought that has gone into the specification of the panels.
Find out what other people are saying about the SUNKINGDOM 80W USB Solar Panel Charger on Amazon here.