Does The Goal Zero Guide 10 Plus Solar Recharger Provide A Beneficial New Approach?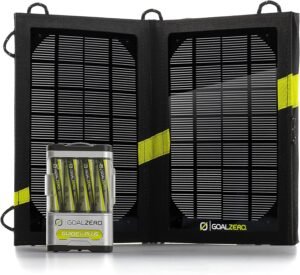 There are many portable solar charging devices around at the moment but the Goal Zero Guide 10 Plus Solar Recharger aims to do something a little different by providing users with a way to charge their small electronics and their rechargeable batteries.
Many solar panels simply provide an energy source for USB connections but this approach should mean that other devices, like some cameras, are covered on camping trips. This system is designed to be simple and portable, with its folding design, 1.2 pound weight and weather-resistant coating, but does it really provide quick and easy charging?
Check Price and Availability Here
What benefits have buyers mentioned in their reports for this Goal Zero charging system
This is designed as a portable system and there are plenty of interesting features here that buyers have appreciated. The magnetic closure on the panels adds to the security, there is a mesh pouch on the back for additional storage and there are loops that give users the chance to hang it up for the optimal position.
Some feel that it could be a little lighter and smaller, but it most are pleased with the design and believe it is strong enough to hold up to regular travel. There is also a built-in light that can be of use out in the wilderness.
The main sales pitch with this system is not the fact that it uses AA or AAA batteries in addition to the USB function, but that it can charge a smartphone in an hour.
There are some great reports about the performance of this system, as long as users are not trying to power too much at once or anything that is too power hungry, and it can charge items in a decent amount of time. The problem is that this ability is not always consistent.
Why is consistency an issue and are there any other problems with this Guide 10 Plus Solar Recharger?
One of the biggest issues with this product is the fact that it needs to be kept in strong direct sunlight for the best performance. This means that some users will be able to enjoy great charging power and fast times in some situations, but may face a different experience on duller days or shaded areas.
There are also comments from users that feel as though they are paying extra for an interesting design – the fun graphics and the folding shape of the panels – but not for the performance.
Summary: is this Goal Zero portable Recharger still recommendable when considering this feedback?
There are some nice features to this system that ensure that it is well-thought out as a portable device, such as the folding nature and the loops. These loops become even more useful, however, when the issue with direct sunlight comes into play.
There are limitations to this Goal Zero solar charger that may make it a little too unreliable and overpriced for some casual users, but it does still provide a great performance in the right conditions and offers users something a little different from the other portable solar chargers on the market.
You can check out more customer reviews about the Goal Zero Guide 10 Plus Solar Recharging Kit on Amazon here.