Is The AspectSolar EnergyBar 225 SunSocket The Full, Efficient Package?
The ability to power up cabins and electrical goods is important to many campers and fieldworkers and solar chargers like the AspectSolar EnergyBar 225 SunSocket are a great way of packing a reliable, transportable piece of kit.
This bundle of items is designed to provide the ideal way of collecting solar power and charging electronics with its 225 hour LiFePo4 battery, EP-60 photovoltaic panels, EnergyBar 225 and DC-154 SunSocket Adapter. Does it really have everything that buyers need?
Click Here for Best Current Price
What benefits have buyers seen when using this AspectSolar bundle with EnergyBar 225 and SunSocket on camping trips?
There are four main terms associated with this system according to the manufacturers: lightweight, compact, durable and efficient. The light weight and compact size is something that buyers definitely do not dispute and there are positive comments about the ease of handling and installation that comes about from this.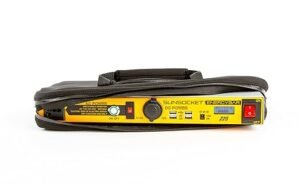 Durability is not mentioned as often but there are certainly no major complaints about damage or problems. The promise is that the panels are resistant to rain and snow, as well as coffee spills. Perhaps reviewers have not tested them out in extreme winter weather yet.
Efficiency, meanwhile, is something that buyers are very keen to praise, with many talking about the long lasting power, reliability over long trips and the ability to charge multiple electronics while out on camping trips. The inclusion of 4 USB outputs is ideal for the camper or fieldworker in need of their equipment for long term energy supplies for long trips. There is also a lot of praise for the battery, in terms of both the amount of energy that can be stored and the high quality of the lithium-ion model.
If the AspectSolar EnergyBar 225 SunSocket ticks all four of those boxes, are there any potential downsides to consider?
While the battery itself may be strong and capable of handling plenty of buyer needs when it comes to supplying energy on these trips, it is sometimes difficult for users to know exactly how effective and efficient it is being because of the erratic readings on the LED display.
The good news is that this is a problem that the manufacturers are completely aware of and they have promised to fix it on future models. The final issue for a few users is the cost as there is some dispute over whether or not this product is too expensive. On the one hand there are those saying that the panels and parts are not worth that much; on the other there are those pointing out that this is a bundle.
Summary: is this AspectSolar SunSocket system still a great choice with all of this in mind?
The cost of the bundle may be off-putting to some prospective buyers but many would recommend this bundle because of the quality of the parts, the efficiency of the battery and the power that can be supplied when people really need it. There is a great sense of reliability that comes from the AspectSolar SunSocket and many buyers are happily recommending it because they can be sure of a great source of power from a well-made, compact and durable system.
Find more reviews about the AspectSolar EnergyBar 225 SunSocket Plus Bundle on Amazon here.