Is The Suaoki 60W Portable Folding Solar Panel and Charger As Effective As Its Makers Claim?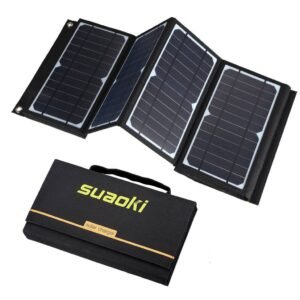 The Suaoki 60W Portable Folding Solar Panel system is a folding solar panel that uses SUNPOWER mono-crystalline cells for high energy efficiency and promises a reliable performance on everything from phones to cameras and laptops.
There are some interesting additional features with this kit – such as the Suaoki TIR-C technology for determining charging efficiency and the waterproof pocket for devices – and the system is also designed to be fully portable. There is a lot here to attract campers and other potential users, but does it offer the performance that buyers are hoping for?
Check Latest Price Here
What advantages does this Suaoki 60W portable solar system offer to users?
It is all about user convenience with these folding panels and there are many buyers that are impressed with the size and shape of this model. It is designed to be the size of an A4 piece of paper, so that it can be easily carried around in a backpack, and users are surprised by the compact size when it is folded up. There are also mounting loops that increase the options when finding direct sunlight, and allow it to be attached to the front of a back pack.
One of the main selling points with this charging system is the idea that users can charge whatever they want, whenever they want. There is a clear focus on multi-functionality with this device as there is the dual-port output and even an included car charger.
The dual port means that USB devices and those on DC power can be charged at the same time for greater efficiency.
There are plenty of positive reports from campers that have used this system for all kinds of applications. Some have used it to charge rechargeable batteries, some have been able to recharge their smartphone in around an hour and many have been able to use both ports at once with decent results.
This dual-charging ability suggests that this 60W solar panel can offer plenty of power whenever it is required, but there are some mixed reviews about its capabilities.
Why are some users concerned about the output with this Suaoki Portable Folding Solar kit?
Reports on the power and the output of this panel vary greatly between users. There are some that say that it doesn't quite meet its specification, but still does enough for their needs, while others give much lower reviews because it completely failed to meet their expectations. Some had expected the product to be much faster. There are also few reports about the ability to charge a car battery via the extra adaptor, which suggest that it should not be bought for this purpose.
Summary: is this Suaoki Folding Solar Panel still recommendable with all of this in mind?
There are no guarantees with this panel and you could either find that the product provides a great strong charge with speed and minimal effort, or that it is not as efficient as hoped for and it struggles in the shade.
Most users would agree that it is worth this risk, however, because of the helpful features that are provided. The dual port, IC tech and all the features for enhanced portability all mean that the Suaoki solar charger can be a great choice.
Find more reviews about the Suaoki 60W Portable Sunpower Mono-crystalline Folding Solar Panel With DC 18V and Usb 5V Output Charger on Amazon here.