Is The Renogy 400 Watt 12 Volt Monocrystalline Solar Starter Kit The Complete Starting Point For Campers?
Solar starter kits like the Renogy 400 Watt 12 Volt Monocrystalline Solar Kit with Wanderer are a great option for RV owners and campers that want to go off-grid in a simple, yet effective manner. Some buyers will be drawn to this starter kit because there are claims about improvements on previous models.
There is a new 8ft 10 AWG tray cable for connecting the battery and controller and that charge controller has been upgraded to the Renogy Wanderer model. Consumers are invited to "start your solar adventure" with this kit, suggesting that it is designed with first timers in mind. Is this a great choice for newcomers?
See best current price and read customer reviews at Amazon here
What benefits have been mentioned in user testimonials for this Renogy Monocrystalline Solar Panel Kit?
This Renogy kit contains four 100w panels that can be lined up for a powerful solar system and this also gives users some variety on how big they want their set-up to be. The promise here is that the "ideal output" is 200Wh a day, with the added claim that this means charging a half-dead 200Ah battery in 3 hours. This does all depend on the sunlight on offer, but there are positive reports about the speed of the power produced and the performance in cloudier conditions.
There are also positive comments about the durability of the system. The Renogy 400 watt solar panels seem to be of a high quality and work well enough to be relied upon in off-grid situations. They have a tempered glass coating that seems to be pretty resistant to hail storms and heavy rain and buyers have even had these panels out in the snow with no ill effect. There are also positive comments about the strength of mounting gear, which leads users to believe that this is a long-lasting, secure piece of kit.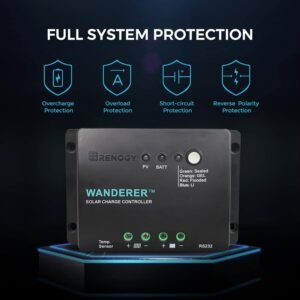 Are there any problems in using this Renogy 400w Monocrystalline Solar Kit to start with solar?
Two important elements to these sorts of solar starter kits are ease of use and an all-inclusive package. One of the most commonly mentioned flaws in user reviews is the idea that this is incomplete and buyers have had to purchase extra parts to personalise this kit and make it more advantageous.
An additional feature here is the inclusion of the two 20ft MC4 connectors, which means that buyers have the choice of setting this up for use with a remote control, but there are complaints about the lack of options with the cables supplied.
This can limit the configuration options for the panels when mounting them on RVs or cabins. Others have said that they have ended up buying more panels to add to this kit, in order to get enough power to the batteries to keep everything running.
Summary is this Renogy Solar Starter Kit still recommendable with this negative feedback in mind?
It seems as though this start kit does not have everything that buyers require to get started with solar in their cabins and campsite; however, it does provide a good starting point for consumers to immediately build upon in order to get the ideal set up for their situation.
There could be more options with the cables and there is a good chance that you will need more panels, but the panels and hardware that are included with the Renogy solar kit are of good quality and do help newcomers set up a solar installation with ease.
You can check more customer reviews about the Renogy 400 Watt 12 Volt Monocrystalline Solar Starter Kit with Wanderer on Amazon here.