Does The Renogy Tracer 4210 MPPT Solar Charge Controller Do Enough To Impress Buyers?
There are some interesting sales claims with the Renogy Tracer 4210 MPPT Solar Charge Controller that make it highly appealing to buyers in need of greater efficiency in their solar system.
It can provide full power output at 45 degrees with temperature compensation, is smart enough to distinguish between day and night and promises peak conversion efficiency of 97%. Is this controller able to live up to buyer expectations or is there more it could do to help?
Check Price and Availability Here
How advantageous has this Renogy Solar Charge Controller been for consumers?
There are many buyers expressing satisfaction in the performance of this device, with some saying that it really does help to increase the wattage travelling to the batteries and improve the performance of their solar panels. Some are successfully using this as way of protecting their batteries from depleting too much because of its shut-off feature.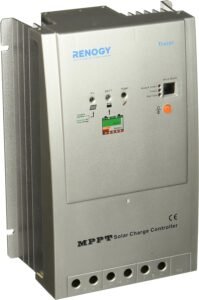 There is a level of consistency seen here with many of the processes that assures buyers that this is a reliable option. Another important benefit for users is that it was pretty easy to install, despite a lack of instructions in a few places, so inexperienced users should have few complaints.
There has also been praise for the remote M-T5 screen for its interface and the way it improves the usability but it must be noted that this aspect is sold separately.
What disadvantages have buyers noted in their reviews for this Renogy Tracer 4210 MPPT Controller?
One of the selling points in the specification for this product is the fact that it has many battery settings – Sealed, Flooded and Gel – but this is not quite enough for some users. There are also calls for a little more quality and attention to detail in the terminals, particularly the use of a grounding screw and plates between the cables.
Another oversight that has been pointed out relates to the timer. The purpose this function is to automatically switch electrical items on or off at night when the owner is not around to do so and while this is great for night lights and security features, the product's ability to differentiate between night and day means that the charger does not allow users to program items used during the day.
Summary: how does this feedback affect a final verdict on this Renogy 4210 MPPT?
There are buyers giving four star reviews for this product with the basic assessment that it is a decent system for a small solar set-up and this seems to be fair. On the right system, the controls and capabilities can really help to improve the function of the system and the power in your batteries, with some interesting other features for controlling the charge across the day.
However, the limitations in the construction and settings and the need to purchase the slightly better interface show that there is room for improvement and perhaps consumers with a more substantial set-up should go for something with greater capabilities. If you just need small improvements to control the charge on your system, the Renogy charge controller could be for you.
You can find more customer reviews about the the Renogy Tracer 4210 MPPT Solar Charge Controller on Amazon here.