Is The Paradise GL23716BK LED Outdoor Solar Light Functional As Well As Attractive?
If you want to make a statement in the garden in regard to the lighting, the Paradise GL23716BK LED Outdoor Solar Light is an interesting direction to take. This cast-aluminium lamp is shaped to look like the sort of old-fashioned, gas-lit lights that used to line the street and now tend to be seen only in films and period dramas.
This 80 inch tall lamp is designed to offer an attractive focal point for a garden or patio while providing a strong, green source of light via the four solar panels and LED bulbs. It is programmed to automatically turn on when the sun sets, using the energy collected by the solar cells during the day, and has 12 LEDs that are said to provide a consistent 14 lumen glow. This all sounds great, but how does the product perform?
< See best current price and read customer reviews at Amazon Here >
What benefits have buyers mentioned when reviewing this Paradise Solar Powered LED Light online?
One of the main selling points for this lamp is the design. The product descriptions paint a wonderfully romantic picture of the old-fashioned street lamps that this outdoor led solar light pays homage too, calling it traditional and charming, and this is reflected in many user reviews.
Some have even had compliments from their neighbours. According to the designers, this lamp is simple to set up because there is no wiring involved and it can be put straight in the ground once it is taken out of the box. This is perhaps a little simplistic, as buyers then have to figure out how they are going to anchor this tall lamp into the ground, but there are few complaints about this issue and, once it is ready, it is easy to setup and use.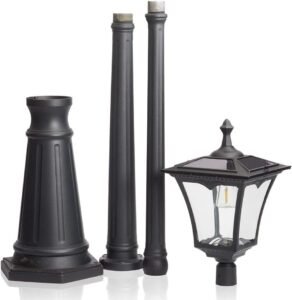 There is also the promise from the manufacturers that this light will be able to stand up to the elements due to that strong aluminium construction and rust-resistant coating and there are some 5 star reviews praising the longevity of the product.
Despite the lightweight, there are users saying that it is a heavy-duty product that is tough enough to withstand cold, wet winters and there are even a few updates from buyers that are still using this lamp 3 years on. Some say that the glass could be a little more secure, but this has been easily fixed with a little sealant. Those that don't seal the gaps find that dirt and bugs get in, which can spoil the look.
What other problems have buyers highlighted after trying out this Paradise Solar LED Light?
There is a clear aesthetic quality to this lamp but this isn't worth too much if the lamp doesn't function properly and provide adequate illumination in the garden. There are some mixed reviews about the brightness of the lamp, with some saying it lights up the space perfectly and others saying that they expected it to be brighter. This could come down to two issues.
Firstly, the LED approach is not as strong as electric lights and perhaps it simply doesn't project the light as buyers had hoped. Secondly, it could depend on the energy collected during the day. There are reports that the lamp can gather enough energy to last through the night, and there are also three rechargeable batteries included to optimize the capacity and ability of the product during the day, but it does depend on location and the availability of sunlight.
Summary: Is this outdoor LED Solar-Powered light still recommendable with this issue with the brightness of the light?
This street light offers a modern twist on an old classic and most buyers seem to appreciate what it can offer to their outside space. There seem to be two clear sets of buyers in the feedback for this product. On one side you have those awarding low marks because the light isn't bright enough and they were disappointed; on the other you have those that appreciate the limitations of solar light but still bought additional lamps to make up for the lack of light.
It is this attitude that shows the worth of the Paradise solar light. There are limitations to the light produced, but because it produces it in a straightforward, reliable way and the lamp is such an attractive, durable model, buyers are glad to have to these lamps in their gardens.
You can check out more customer reviews about the Paradise GL23716BK Cast-Aluminum Solar-Powered LED Streetlight-Style Outdoor Light on Amazon here.