Can The Gama Sonic Royal Solar Outdoor LED Light Offer The Illumination Advertised?
Solar powered lamps like the Gama Sonic Royal Solar Outdoor LED Light are a great idea for home owners that want to cut costs on garden lighting and this one has the added bonus of an attractive, unusual shape.
This 23 inch high lamp is made to be mounted onto horizontal surfaces to offer a soft glow over a patio or decking area. It uses solar panels and LED lights for simple power generation and lighting and buyers should be able to leave it to work on its own.
Check Price and Availability Here
What benefits have buyers noted in their reviews for this Gama Sonic LED Solar Light?
The selling point of this lamp, for the majority of users, is the look. The design has been inspired by old gas-lamps and would not look too out of place in a royal park in London. This means that many buyers have been able to add something with a different feel and a bit of grandeur to their gardens and driveways.
This is enhanced by the bronze finish paintwork as it make a nice change from the usual black models. The added bonus here is that it is made with with durable aluminium and real glass panes for an added sense of quality and durability.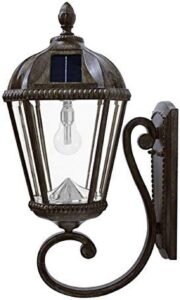 The solar panel in the middle does detract from this old-fashioned feel slightly, but it necessary for the great performance that some buyers have mentioned in their reviews. This outdoor solar light product is designed to automatically switch on at dusk, using the solar charged batteries to provide illumination across the night.
Buyers say that the system appears to be pretty energy efficient and there are reports that the lamp can stay lit for as much as 6 hours. This is not the full dusk to dawn operation advertised, but some users are still pleased with the potential of this small-scale product.
It should also be noted that some buyers would like to see an off-switch on the outside of the lamp for greater control.
What other flaws have been seen in this Gama Sonic Royal Solar LED Light?
The problem with this product comes not from the ability of the solar panels and the battery pack but from the use of LEDs. The specification proudly boasts about the use of 8 "super bright" LEDs within the lamp and cone reflector technology to enhance the projection of the light.
For many, however, it is still not as bright as they had hoped. LED products are often dimmer than buyers expect and there are calls to make it brighter on future models. The use of two brightness settings, including a dimmer function, should be a benefit, but here it seems a little pointless.
Summary: is this Gama Sonic garden solar light still recommendable with this feedback in mind?
There are some clear limitations to what this solar-powered LED lamp can offer in terms of illumination in a garden, but this is more to do with the style than the product itself. A third, brighter function might help here, but there are still plenty of users that are happy with the look of the lamp when it is lit and the overall quality of the product.
It is strong, pretty and has a great power source behind the LEDs. In the end, the Gama Sonic solar light has a lot of potential and really needs to be bought as a decorative item rather than as a source of lighting.
Click here to see what other customers are saying about the Gama Sonic Royal Solar Outdoor LED Light on Amazon.