Is The Outback Flexmax 80 MPPT Solar Charge Controller The Plug And Play Option Users Expect?
The Outback Flexmax 80 MPPT Solar Charge Controller is a fairly simple solar charge controller for improved solar performance, with some nice digital touches. This system lets users adjust the voltage and track the current status of the system, with the chance to read through 128 days worth of data.
There is also the promise that it will increase photovoltaic power by as much as 30% because it is an MPPT system. This is sold as "the only choice when you demand a high performance, efficient and versatile charge controller", but do buyers agree?
See current price here
The pros and cons of this Outback FlexMax80 MMPT Charge Controller 
Pros:
Consistent performance in the right system
Seems to be well made and secure
Programmable for adaptations
Cons:
Could do with some improvement on the instructions.
A little basic for everyone's needs
How beneficial has this Outback Flexmax FM80-150VDC Solar Controller been for first time users?
The majority of buyers are happy to recommend this device with great review simply because it met their needs, performed as expected and did not cause them any problems. There is nothing in the power, features or set-up that is revolutionary enough to offer a wow factor.
Instead, most talk about the improvement over other devices and ease of use. There are some that highlight the inclusion of the fan for temperature control and the heavy duty feel.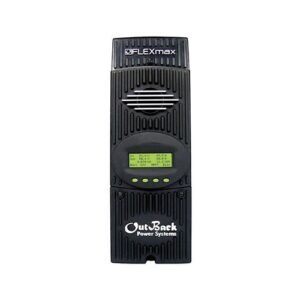 This is also a programmable model with the potential to change the battery voltage, track the performance and help users understand the power usage a little better. The back-lit display does provide clear information when it is available. However, there are some users that struggle with this adaptable nature.
What problems have users had to deal when testing out this Outback Flexmax 80 Solar Charge Controller for their solar set-up?
The biggest problem here is clearly the lack of clear instruction. There are basic instructions on the set-up of this MMTP solar device, and there is the sense that the designers felt that this was enough for what many see as a "plug and play" option.
However, there are problems for all those that want to adjust the device and improve its efficiency. There are options available to adapt the system to personal preferences, but some users are to scared to try.
There are also reports from those that found that it didn't have all the necessary wires and connections that they needed for their set-up. Therefore, while it is a "plug and play" model for some, it is a little basic for others.
Summary: how does this negative feedback affect the final recommendation for this Outback Flexmax FM80 Controller?
There is the impression from some user reviews that there are limitations here in what can be achieved. There is the chance to adjust settings for a better performance, but many miss out on this because they don't understand how to make these changes.
This is a shame because most users are still impressed with the overall performance and power provided with this system. With a little more thought, and a better manual, this Outback solar charge controller could still be a great choice for all those that need a basic addition to their system.
You can check out more customer reviews about the Outback Flexmax MPPT 80 AMP Solar Charge Controller here.