Is The Bendable KINGSOLAR 120W Sunpower Bendable Solar Panel A More Versatile Option?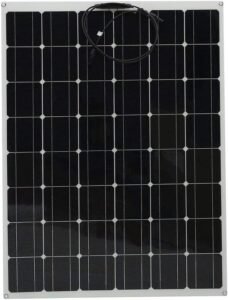 Solar panels are the ideal way for consumers to go off grid in their caravans, RVs or other holiday homes and the KINGSOLAR 120W Sunpower Semi Flexible Solar Panel promises to provide great power and convenience in many different situations.
The system includes the 120W panel, MC4 connector and cable and the all-important user manual. With claims of 25-30% more power generation than "conventional" models, this seems like a great choice for all sorts of buyers. Does this mass appeal translate into lots of happy customers?
See best current price and read customer reviews at Amazon here
What benefits have buyers mentioned in their positive reviews for this KINGSOLAR 120 watt solar panel system?
One of the main selling points with this panel is the sense of user-friendliness that it offers. The makers promise that this system is lightweight and waterproof and it even has rounded corners for improved user safety.
This then makes the product more portable for transportation between sites, although some say that the wires are a little too heavy and inflexible for that. On the plus side, these thick wires are also longer than some buyers expected so provide greater reach.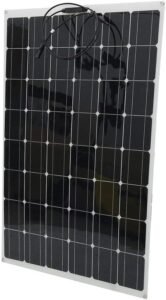 Of course there is also the vital benefit of the energy output and there are users giving this product high praise for the power received and the energy efficiency on offer. Some reviewers were in the middle of testing out the ideal position for their panels and found that the performance was surprisingly good in less than optimal positions.
There are some consumers that have bought more than one of these panels to increase their options even further. These users can choose how many of these portable panels to take away with them, depending on their needs for the week away, and have no concerns about transportation or damage.
Are there any downsides to this KINGSOLAR Sunpower Semi Flexible Solar Panel that limit its appeal?
One of the more interesting selling points with this solar panel is the fact that it is bendable. There are many solar panels out there that are so rigid that users are afraid of breaking them, but this model allows for a 30 degree arc.
The flexibility of the panel is great for mounting the product on uneven surfaces and improving options, but there are still some small issues that buyers need to consider.
Firstly, the wiring connection is on the back of the panel, which may limit those placement options slightly; secondly, the materials will expand in the sunlight so the panel needs a little flexibility.
Summary: is this KINGSOLAR 120 watt solar panel still recommendable with this feedback in mind?
Many consumers will have bought this model for its ability to be mounted pretty much anywhere and the chance to bring efficient power generation to their campsite. This is definitely achieved to a point, with the great performance that the panels offer and the ability to mount the system in a variety of places, but the issues with the design and bendable nature might inhibit some plans.
Buyers still have to put some thought into where they place the KINGSOLAR solar panel, but energy output, portable design and user-friendly components mean that it is worth that extra consideration.
You can check out more customer reviews about the KINGSOLAR 120W Sunpower Bendable Solar Panel on Amazon here.