Can The Kaito KA500 5-Way Solar Powered Radio Really Help In An Emergency?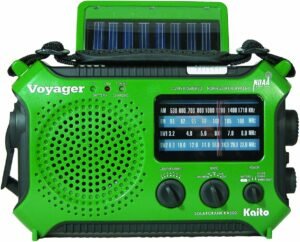 Emergency radios are something that many people may not consider any more, but the Kaito KA500 5-Way Solar Powered Radio is designed to be the ideal tool for preppers. This is an AM/FM/Shortwave radio, which should be versatile enough to provide enough contact with the world in emergency situations, or to simply provide some entertainment on camping trips.
One of the key selling points of this radio is the use of the 180 degree solar panel that can be adjusted to provide optimal power in solar conditions, but there is a lot more to this model than that.
Click Here for Best Current Price
What benefits have buyers highlighted in their reviews of this Kaito KA500 Radio?
To call this model a solar radio isn't really doing it justice because this is actually a 5-way powered radio. As well as the solar panel, there is the chance to use traditional AC power, a back up battery, an old-fashioned hand crank and a computer. This means that users should be able to use this as an emergency radio in a number of locations and situations.
Some elements are better than others, however, and it can be vary depending on conditions. Direct sunlight obvious helps, but the solar panel and battery seem to much more reliable than the hand crank, which seems a bit flimsy.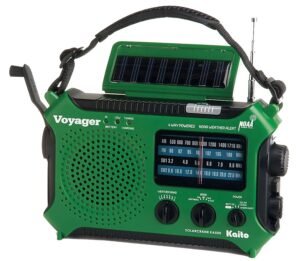 Other interesting features that buyers should note with this model are the inclusion of a LED reading lamp, earphones and connectors, including a USB port, for charging phones and other electronics. The connections seem to be pretty reliable, providing a new way for campers to provide a charge to essential items with a reliable source of power from the battery or panel.
The LED lights are particularly impressive to a number of buyers because not only are they versatile, with red and white lights and a flashlight mode, the light seems to be pretty strong and long lasting.
What downsides have been reported about this Kaito Voyager KA500 Solar Powered Radio?
The ability to provide consistent power to this radio is one thing, but it also needs to offer a decent reception, sound quality and options for information during that emergency situation. The radio has 7 pre-set NOAA weather channels, which is a great start, but there are some shortcomings that buyers have to be aware of.
Some feel that the antenna could be a little stronger to catch some of the more far ranging stations from remote locations. Others feel that the mechanisms and needles are a bit flimsy and they don't always trust the radio to scan for stations.
Summary: how beneficial has this Kaito Solar Emergency Radio been for new users?
There is a lot of potential in this radio, which is clear to see from the number of great reviews that have been written about this system. There are improvements that could be made to make this a little tougher or more suited to long range frequencies, but it still gives users a great chance to connect to the outside world in more ways than one. With the radio, phone charging, strong solar panel and LED features, there is a lot to enjoy with this Kaito solar radio.
Find more reviews about the Kaito KA500 5-Way Powered Emergency AM/FM/SW Weather Alert Radio on Amazon here.