Is The Goal Zero Nomad 20 Solar Panel The Camper's New Best Friend?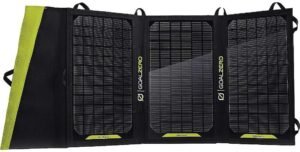 Solar panels are becoming a must-have item for campers that don't want to go completely off-grid and the Goal Zero Nomad 20 Solar Panel promises a simple, user-friendly solution for reliable power.
This panel uses "highly efficient" monocrystalline solar pumps for greater efficiency and a built-in junction box with a charging chip for simple USB-based charging power. Is this the functional, camper-friendly panel that buyers are looking for or is it causing problems?
See best current price and read customer reviews at Amazon here
What benefits have users appreciated when using this Goal Zero 12004 USB Panel on their camping trips.
With all of this great technology and the promise of a great output, there are high hopes for the capabilities of this little solar panel system. The first thing that buyers notice is that not only does the innovative plug-and-play system offer a simple method for newcomers, it leads to a strong, consistent charge for devices like mobiles and laptops. An additional benefit to the performance is the way that the panel continues to deliver on more overcast days.
Happy users are also keen to talk about how small, lightweight and compact the system is. It is easy to carry around in a backpack and some say that the folding design also offers protection against damage. Of course there is a small catch to this simple, streamlined approach.
In the specification, buyers are encouraged to "utilize the built-in USB port or pair with a Goal Zero portable power pack to charge your gear day or night".
Are there any other potential problems with this Goal Zero Nomad 20 watt Solar Panel that might limit its appeal?
There are comments in customer reviews about this system doing what it is supposed to do to a good standard. This essentially means that it is functional, but to a limit. This system isn't going to be able to provide impressive power for multiple items and its primary function seems to be to charge small scale electronic devices via a USB cable.
The design means that it is ideally suited to this, but if you have higher hopes and bigger electronic needs on your camping trip, you may be disappointed. Additionally, there is a warning to use the correct wire for the correct device as this has caught people out and they have wrongly blamed the panel for the poor performance.
Summary: is the Goal Zero 12004 Nomad 20W portable solar panel still recommendable with these issues to consider?
There is the clear sense that this product is part of a bigger set-up and this needs to be understood by future buyers. If you want this convenient, compact panel, you are going to need other parts too in order for it to work to its full potential.
The Goal Zero solar panel is the ideal tool for its specific job because it offers that sense of convenience in its design, ease of use in the lack of processes and the performance required. If you are looking for basic power for a short camping or backpacking trip then this should be fine but you do need to keep these limitations in mind.
You can check out more customer reviews about the GOAL ZERO Nomad 20 Solar Panel on Amazon here.