Is The 30w Goal Zero Boulder 30 Solar Panel Up To The Job?
Solar panels are one of the most essential items of kit for off-grid camping, and the Goal Zero Boulder 30 Solar Panel is out to provide the best starting point for new users.
This 30w model charges a Goal Zero Extreme pack pack in 12 hours for simple power to all sorts of electronic items.
The main aim with this monocrystalline solar panel is to provide simple power with a basic, tough panel in remote locations. Is it up to the job, or is this too weak and simple for most users' needs?
How beneficial has this Goal Zero Boulder 30 Portable Panel been to campers?
Portability and durability are essential with this model to "keep you connected to your digital life". There is the option of permanent installation for camper vans and cabins, or for more mobile options on campsites.
The light 6.5lb weight makes it easy for users to carry this around wherever they go and enjoy the power.
Many are confident to use this Goal Zero solar panel on trips where they require electronic equipment because of the reliability of the charge and the quality of the panel. There is also the use of the weather resistant materials to protect against rain and snow loads.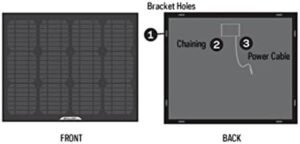 The other selling point with this panel is the ability to use this model with a range of compatible Goal Zero equipment, such as other panels and battery packs.
This is ideal for all those that have a solar system and want to improve the potential for camping trips. But, there are issues for those that start out with this panel first.
What problems have users experienced with this Goal Zero Boulder 30 Solar Panel?
There is a clear issue that stands out in the consumer reviews for this system, that is the limitation of a 30w panel. As the factors above show, this panel has a lot of potential for a good performance.
The problem is that many talk about a 60w set up being perfect for their needs when powering their electronics on the campsite.
This means a second model and double the cost. The panels are designed to slot together with ease, although some like these clips more than others.
This shows a desire to make this panel part of a modular, customisable system. The issue here is that buyers are paying a lot for a small component of a large set-up. In some cases, users may find that it is preferable to skip ahead and go for the 90w model.
Summary: how does this issue affect a final verdict on this Goal Zero Boulder 30?
There is no doubt that there is a lot to love in this individual panel, with the potential of those cells for reliable power and the way that it is designed for the great outdoors.
There are many campers that will find that it does enough for their needs. Yet, others will see the limitations if they need a more powerful system.
There are some that say that this Goal Zero solar panel does "just enough" with no major issues. Buyers are encouraged to determine what output they really need before buying one – or perhaps two of these models.
Find more reviews about the Goal Zero Boulder 30 Solar Panel on Amazon here.