Does The Parmak Solar Pak 6 Battery-Operated Solar Fence Charger Do Enough To Control Livestock?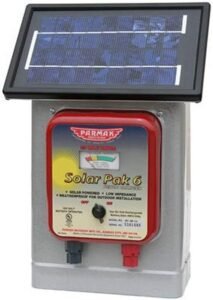 A system like the Parmak Solar Pak 6 25-Mile-Range Solar Electric Fence Charger is an appealing idea to anyone that owns animals and want to keep them in the right place.
An electric fence is a simple solution for controlling livestock but it can be difficult to power them in remote places. This uses a solar panel and "computer precision" in a more high-end solution. There is a lot here to pique the interest of farmers, but are they impressed with the results?
See best current price and read customer reviews here
What benefits have buyers appreciated with this Parmak DF-SP-LI Solar Pak 6 Solar Fence Charger?
The first important benefit with this system is the ease of use. Most users seem to feel that this is easy to set up and use. There are performance issue below that challenge this idea, but the general assembly process is fine.
Also, those that get it to work as desired have no issue getting the performance they were after. There is also the added benefit of the "at a glance" performance meter for guidance.
The other clear benefit here is that this is a tough, well-built model. There is the sense that it will definitely be rugged and weatherproof enough due to the construction and the metal casing on the parts, rather than plastic.
The makers seem to have understood the demographic here and fact that this is for farmland use, not a basic fence to keep cats out the garden.
Are there any problems with this Parmak Solar Pak 6 6-Volt Battery-Operated Solar Fence Charging System that buyers need to watch out for?
Unfortunately, while there are plenty of positive elements to the design, there are some serious power issues that can completely destroy the appeal and purpose of this Parmak solar electric fence charger.
To begin with, it is simply not strong enough for the purpose for many people. A good livestock fence needs a bit of a kick to get through to these hardy animals, but some users barely felt anything themselves. Therefore, it is not the best option for livestock as cows and sheep may not feel anything from it. Some struggled to adjust it to a higher setting and gave up.
This is a shame as those that get a good charge can enjoy some great features with the panels. The company promise that the battery will still charges on cloudy days and will operate for 21 days in total darkness.
Summary, what does this all mean for a final verdict on this Parmak Solar Pak 6 Solar Electric Fence Charger?
The big question with this issue above is whether this is down to the panels, the limitations of the electronics or human error? Some put this down to people not grounding the fence correctly in the right soil, or using too short a rod. If this is the case, then the product is redeemed and there are enough positive points for a recommendation.
If it is an electronics issue, there is a quality control issue that turns this into a gamble. There are clearly a lot of mixed reviews with this Parmak solar fence charger . Yet, there is still a chance that the great components will come together to keep livestock in the right place.
Find out what other people are saying about the Parmak DF-SP-LI Solar Pak 6 Low Impedance 6-Volt Battery-Operated 25-Mile-Range Electric Fence Charger on Amazon here.