Is The Fi-Shock 2 Mile Solar Powered Low Impedance Pet Deterrent Fence As Helpful And Reliable As Hoped?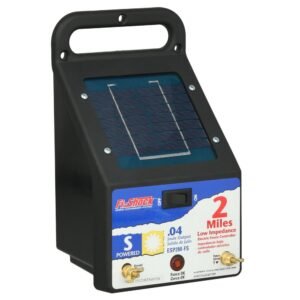 For some animal owners, the only solution to keeping them contained and secure is to invest in a solar powered electric fence and products like the Fi-Shock 2 Mile Solar Powered Low Impedance Pet Deterrent Fence .
This system powers fences made from steel, aluminium, poly wire and poly tape with an output voltage of *KV +/- 20%, a 4-volt battery and a solar panel. This should be the ideal solution for small scale, remote animal control, but does it work?
Click Here for Best Current Price
How beneficial has this Fi-Shock Solar Powered Electric Fence been?
This solar kit is pretty small and simple and there are some positive comments about the ease of use and installation. Essentially, all buyers have to do is wire it up, charge it in the sun, wait for the "fence ok" light to come on and leave it to protect the animals. The use of solar power means that this system is much more portable than mains powered options and should be more reliable than using batteries.
The solar system uses low impedance technology for a more reliable performance and less battery drain. Some buyers have even uprooted the fence and packed it up to use it as a dog pen while camping.
There are plenty of positive reports that show that the product can act as a great deterrent. Some are using it as a way of keeping animals out of the garden or chicken run, while others are using it to stop pets from straying.
Users say that the charge is reliable and just strong enough to give a sharp warning, without causing the animals any harm. It wont be strong enough for cattle or horses, but it has been seen to work on dogs and deer. The only problem with this system is that the results can vary.
Why are the reviews for this Fi-Shock 2 Mile 4V Solar Fence so mixed?
There is an interesting trend with this product where buyers either feel the need to give it a glowing 5 star review or an angry 1 star one. There are some users that says that it simply doesn't work at all and they have trouble pinpointing the reason, which therefore suggests faulty merchandise rather than a design flaw.
While some users can put this product out in the sun to charge and see immediate effects with the current in their fence, others say that it does nothing at all. It should also be noted that the optimal 2 mile range depends on "ideal conditions" and this can also affect the strength and potential of the fence.
Summary: is this Solar Pet Deterrent Fence still recommendable with this issue in mind?
There is a clear gamble to buying this product but it seems that it is worth the risk of a faulty, useless charger when there are so many buyers that are pleased with their purchase. When users receive a model in full working order, it can clearly make a big difference and it appears to meet most of its claims. The Fi-Shock solar electric fence can be used for containing dogs, rabbits and chickens – as advertised – and has the added benefits of the simple set-up, portability and that regulated charge.
Find out what other people are saying about the Fi-Shock Energizer ESP2M-FS 2 Mile Solar Powered Low Impedance Pet Deterrent Fence on Amazon here.