Is The Heliatos Complete 4 Panel EZ-Connect Hybrid Solar Water Heater Kit A Simple Approach To Greener Hot Water?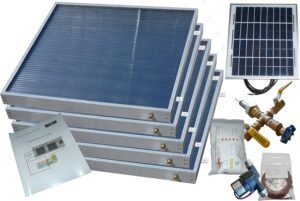 The Heliatos Complete 4 Panel EZ-Connect Hybrid Solar Water Heater Kit is a simple looking solar panel kit with some big promises. There are 4 small, lightweight panels and all the right fixtures to allow users to hook the system up to their roof and water heater, and to enjoy a greener solution for constant hot water with smaller utility bills.
This hybrid system uses aptly named "EZ-Connect" panels, an additional 10W panel for the TopsFlo TD5 pump and a Bottom Feed Connector for the heater. Is this enough for a consistent, effective performance?
See best current price and read customer reviews at Amazon here
What benefits have buyers appreciated with this Heliatos 4 panel EZ-Connect Solar Water Heater Kit?
Many buyers go into buying this unit hoping that it will provide quick and simple water heating for their home while cutting their electricity costs. Buyer feedback suggests that this has been seen by most users, as there are great comments about lower bills and a steady supply of hot water. Some have seen adequate results in the coldest months, with high hopes for excess to store in the hottest month, and say that the system was up and running quickly.
There are also positive comments about the ease of installation. Buyers are invited to "install your 4 panel solar water heater system in record time" and this is clearly easily done. This is partially due to the quality of the instructions and the simplicity of the parts.
This is a small kit, as each panel measures at 24×24 inches, but this is clearly enough for buyer needs. This is helped by the fact that the panels simply thread together and all fittings and connections are included in the box.
What disadvantages does this Heliatos Hybrid Solar Water Heating System have that buyers need to be aware of?
The problem with any solar device like this is that results are always going to vary from house to house and depending on its use. For some, it could do a brilliant job with the parts provided, while others could find that they need more panels or extras for their needs.
Some happy buyers have splashed out on additional tech to ensure that the product is running smoothly and efficiently, such as by adding Raspberry Pi thermal sensors to check the readings. Despite this, the vast majority of users are happy to award to model 5 stars. There is the warning that there is no SRCC rating on the device to help users with credits and exemptions, but this isn't a big issue for most users.
Summary: is this Heliatos Hybrid Solar Kit still recommendable with these comments in mind?
The selling point of this system is its accessibility. It is clearly able to provide an effective water heating solution, as advertised, but it does so in a way that means that most users can easily install and manage the system. The simplicity of the parts and the threading system mean that the Heliatos solar water heater is easy to understand and to adapt to the needs of the household, and it is this balance of efficient tech and user-friendly features that make it highly recommendable.
Click here to see what other customers are saying about the Complete 4 Panel EZ-Connect Hybrid Solar Water Heater Kit on Amazon.