Is The ECO-WORTHY 100 Watt Portable Folding PV Solar Panel Kits As Versatile As Buyers Hope?
There are many solar kits that claim to be portable and, despite its size, the ECO-WORTHY 100 Watt Portable Folding PV Solar Panel Kits with 15A PWM Solar Charge Controller claims to fit that bill. This system uses two folding 50w PV solar panels and a 15 amp solar charger connector to provide 12V battery charging for multiple purposes and seems to be a general, all-purpose product.
There are a lot of claims about performance and durability in the specification for this product, but does it live up to buyers expectations?
Check Price and Availability Here
What benefits have buyers appreciated when using this ECO-WORTHY PV Solar Panel Kit?
One of key selling points for buyers of this system is the fact that it is designed with so many potential users in mind. The specification talks about everything from camping and charging electronics in an RV to providing power on a boat and more complex military campaigns.
This versatility is enhanced by the use of a strong aluminium frame that is said to be about to withstand high wind, heavy loads of snow and salt corrosion – the latter being ideal on those boats. Many users say that it does the job in multiple situations and offers a strong performance across the trip, even on cloudier days.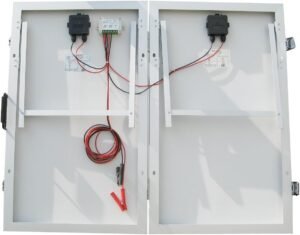 There is very little to this system side from the large panel, the connector and the frame and it seems as though it is pretty easy to use. Users can just fold it out, mount it as required and leave it to charge up in the sunlight.
There are positive comments about the instructions that are included, although there is the sense that most buyers would be able to figure it out without them. The controller is built in and the frame has a simple mechanism. It seems that most campers should be able to get along with this system and it should be ideal for first-timers.
What downsides have buyers reported in their reviews for this ECO-WORTHY 100W Portable Solar Panel?
The reviews for this system on Amazon.com are actually pretty mixed. There are almost as many 4 star reviews as there are 5 star ones so it is not without its flaws. There are some contrasting comments about the build quality because while the frame is strong and resistant, the supports are a little more flimsy. There are also calls for the designers to increase the length of the wires to increase the installation options and to provide a pouch for the cables when not in use.
Summary: is this Portable Solar Panel Kit still recommendable with this feedback in consideration?
In the end, it seems that the device only has an average consumer feedback rating because it is merely an average device. A lot of the reviews say that it generally works as advertised, but just decline to give that final star because of a lack of extra features or anything noteworthy about the performance.
In short, the ECO-WORTHY solar panel is adequate for most needs but could benefit from some extra considerations, like longer cables and a pouch. If all you need is a simple, folding system for basic power, this could be a decent place to start.
Click here to see what other customers are saying about the ECO-WORTHY 100 Watt Portable Folding PV Solar Panel Kits on Amazon.