Is The ECO-WORTHY 25W Solar Powered Attic Ventilator Effective Enough To Cool A Home?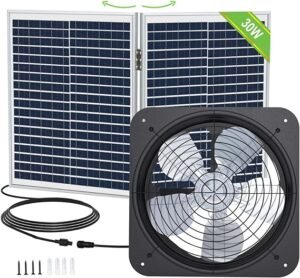 Attic fans are a great idea for any home in need of ventilation, and a solar powered option like the ECO-WORTHY 25W Solar Powered Attic Ventilator is even more appealing to green-minded consumers.
This fans is installed in the attic roof and to be hooked up to a solar panel for effective ventilation via a renewable energy source. This is a much more energy efficient option than other ventilation systems, but there are always concerns with the reliability of solar. Does this model prove that solar attic fans are the way forward?
Click Here to See Best Current Price and Read Customer Reviews
What benefits have buyers appreciated about this ECO-WORTHY Solar Attic Ventilation Kit?
The first selling point with this system is the fact that it appears to be a pretty complete kit, unlike some where buyers have to purchase the fan and the panels separately. This means that users receive the 25W solar gable attic vent alongside the 30W solar panel, 16ft of wiring and some mounting brackets for easier installation.
This solar panel also has the benefit of being foldable for great solar power optimisation. This is enough for many users that are setting up their first ever attic fan with solar power. However, there are others that would like the option of hooking up a battery for a more reliable power source into the evenings.
This should all lead to a great performance and an effective way to ventilate the home. The sales claim here is that it will vent an area of up to 2,220 square feet, which equates to 1960 cfm of ventilation. It also promises to work well at a low voltage, so that it still provides enough ventilation on cloudier days.
Most are impressive with the speed of the blades and the amount of air that it can move with such a simple solar set-up. Many find that the action is more than enough to cool a home during the day with a significant drop in temperature.
Are there any clear downsides to this ECO-WORTHY Solar Powered Attic Fan that buyers need to be aware of?
The biggest problem here is with the installation and this is for two reasons. First of all, there is no instruction manual with the kit to help first timers understand the wiring and set-up.
This is a problem because the direction of the blades on the fan is in the opposite direction than expected, which means that this really isn't an intuitive build. With a few calls to customer support and a helping hand, users finally understand what is going on here.
Summary: what does this all mean for a final recommendation on this ECO-WORTHY Solar Powered Ventilator?
There are some warnings that this is a pretty basic kit with just enough to get by and this either a positive or a negative depending on the user. On the one hand, this ease-to-use, efficient system with work in many spaces with minimal experience required. The parts that are there are strong, well-made and effective.
On the other, it may be even more effective and appealing with an instruction manual and a battery hook-up. As it is, the ECO-WORTHY solar attic fan is still recommendable for first timers curious to see if solar works for them.
Find more reviews about the ECO-WORTHY 25W Solar Powered Attic Ventilator Gable Roof Vent Fan with 30W Foldable Solar Panel on Amazon here.