Does The ECO-WORTHY 400 Watts Off Grid Solar Power System Offer Reliable Power In An Emergency?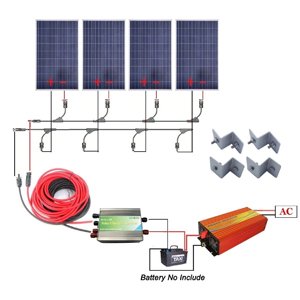 The ECO-WORTHY 400 Watts Off Grid Solar Power System is a basic green energy solutions that consists of a 400w system of polycrystalline panels.
That's 100w over 4 panels as well as the 1000w pure sine wave inverter and 30A PWM charge controller.
These panels are made from high transparency tempered glass for a good performance. It also comes with the necessary adapters and mounting brackets to help with the installation. Is this enough to impress users?
What benefits have buyers appreciated with this ECO-WORTHY Solar Power System?
This system is said to provide an average of 1600 watts of charge a day and there are plenty of positive comments about the quality of the output.
It seems to be reliable in a number of applications with little experience required. Buyers appreciate the inclusion of the timer feature as this allows them to set up the system for a dawn until dusk operation and switches the power off when it is not required.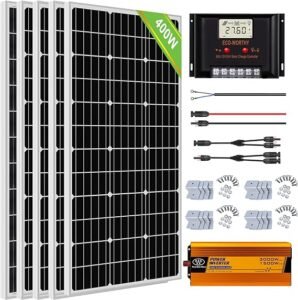 One of the other appealing things about this product is the fact that it is designed to be safe and hassle-free for less experienced users. The electronic system has protection against lightning and the use of the wrong battery pole.
The construction is also designed to withstand dirt particles and low pressure jets and the frame as made from a heavy duty aluminium to increase durability without adding too much weight.
The system also has a temperature range of -40 to +80 degrees. This means that it should be reliable in dusty, arid landscapes as well as places received heavy rainfall.
What are the potential downsides that buyer need to be aware of with this ECO-WORTHY 400 W Off Grid Solar Power System?
The reviews for this ECO-WORTHY product are pretty favourable. There are some issues with the installation due to a lack of instructions or wires being mislabelled.
There are also a few comments from buyers that feel that the wires could be longer, as the connection between the charge controller and panel is only around 24''. This seems to be the biggest issue for users. Once it is up and running it behaves pretty well.
The performance will always depends on sunlight availability. However, some say that the panels are pretty sensitive in the light, and that full sunlight is not necessary to gain some charge. There are even those that say it was triggered by the light of the full moon – which could be a pro or a con depending on the application.
Summary: how does this negativity affect the final verdict on this ECO-WORTHY Off Grid Solar Panel System?
There can be some hassle in getting this project up and running, and this would be easily fixed with some better labels. Once it is up, this system is highly beneficial and reliable and buyers say that is does a great job on smaller projects.
This is not used as a way of going completely off grid but as a way of preparing for an emergency. It will cover the basics such as lights and appliances without too much trouble. Buyers that can put up with the early inconveniences of the ECO-WORTHY solar power system will find themselves with a great product.
Find more info about the ECO-WORTHY 400 Watts Off Grid Solar Power System on Amazon here.