A Guide To Choosing Between Top Rated Solar Generators
Solar powered generators are a helpful tool when grid-based power is no longer available. This could mean camping trips in RVs and tents where you need to power some basic appliances. It could also mean emergency power in areas prone to blackouts and bad weather.
                                                Contents
A Guide To Choosing Between Top Rated Solar Generators

Check Out The Top 10 Best Solar Generators

Goal Zero Yeti 1400 Lithium:
Renogy Lycan Powerbox:
Peppermint Energy Forty2:
SUAOKI G500 Portable Power Station:
Goal Zero Yeti 1250:
Renogy Phoenix Portable Generator:
Jackery Powerpro:
EasyFocus Portable Power Station:
Kalisaya KP401 KaliPAK:
POWEROAK Powerhouse:
The problem is that gas powered models are noisy, bad for the environment and not that economical. Solar powered models are a great alternative with a lot of potential for both situations – that is as long as they have the power and output needed.
Check Out The Top 10 Best Solar Generators
Things to consider when looking at top rated solar generators.
Some sales pitches carry a little more weight than others when dealing with these solar power stations and generators. There are many brands that will talk about the lack of noise and clean nature of their product.
Yet, this is a benefit of going solar, not of a specific design. Instead, look more closely at the specification to learn more about the battery and the output.
How long does it take to charge up? Does it have a pure sine wave invertor? How many devices can it charge up at once? From there you can look at the ease of use in regard to the displays and indicators. Some products are classed as "charge and go" models, but is this really the case?
Another important factor to consider when choosing a new solar power generator is portability. Whether this is emergency back-up for the yard, or a power supply for the campsite, you need to be able to transport it.
Some models are better suited to transportation than others, with lighter weights, built-in handles and wheels. Then there are the compact all-in-one models complete with panels. This is another vital consideration. Does the generator come with panels and other aids, or are those sold separately?
10 top rated solar generators for consideration:
1. Goal Zero Yeti 1400 Lithium:
Goal Zero is a leading name on solar power generation, and one of the first that consumers look for when choosing generators. That is why this guide starts with two of their best models. The Goal Zero Yeti 1400 Lithium Power Station is a portable solar generator with some great specs in relation to the power.
There is a 1425Wh battery, a pure sine wave inverter for clean, safe power ,and the opportunity to charge up to 10 devices at once. There is also a cooling system to regulate the temperature of the generator, and the battery is replaceable.
Then there is the portable nature, with the "grab and go" design for use anywhere. The product weighs just 46lbs and has carry handles on the top.
It also has the ability to charge up in 25 hours from an AC charger, which is great before a trip as long as users remember to set it up. There is an additional 10 month shelf life, so it can be an emergency power source if needed.
2. Renogy Lycan Powerbox:
Another brand that is popular with campers and those on field assignments is Renogy. They have a great reputation when it comes to intelligent designs and power capabilities. That is why we want to look at 2 of their top rated solar generators next.
The portability goes a little further here, compared to the Goal Zero models, with the large wheels and built-in handle. This means that users can wheel this device into place wherever it is needed, much like a substantial gas generator.
This is important to consumers that don't want to feel as though they are losing out on power or performance by opting for solar over gas. This powerful Renogy Lycan Powerbox Portable Outdoor Solar Power Generator is a great substitute with the interchangeable battery and battery life of 2000 cycles.
Other nice details here include the selection of USB and AC outputs, the LCD display and the LED indicators. The latter features help with the ease of use.
3. Peppermint Energy Forty2:
This Peppermint Energy Forty2 Max All-In-One Portable Solar Power Generator takes a similar approach to the Renogy Phoenix with its clever design. Again there is that briefcase style design which opens out to reveal the panels.
Within is the battery for 2000watt hours of power and a series of outputs. The idea here is to provide something that is ready to go when called upon – hence the slogan of "open up, power on, and enjoy".
The similarity between the two models shows the potential for these all-in-one solutions. These models are sold to campers more than other demographics because of the size and performance of the device.
The ease of transportation is arguably the most important thing here, as these devices are adaptable with further panels. This isn't as powerful as other models, such as the large Goal Zero solar generators, but is still a great tool in the right environment.
4. SUAOKI G500 Portable Power Station:
Looks really shouldn't be that important when dealing with something like a power generator. Yet, there are some models where the designers seem to have spent more time on the power specs than the design. This Suaoki G500 Portable Power Station is sold as a portable solar generator for CPAP applications while camping.
It has a 500wh "mega capacity" battery, a series of quick charge USB ports and a 300w pure sine wave inverter. It is all about a reliable charge for basic electronics and lighting. It wont do quite so well on high-power devices, but has potential on laptops and phones.
The design may not be great, with the small orange display and questionable LED indicators, but ti is lighter than it looks and easy to use.
This is therefore an interesting alternative for those that don't want anything extreme for their camping trip, but also want something a little more reliable than the smaller cases.
5. Goal Zero Yeti 1250:
The second of these Yeti products is another that will appeal to many different users. The sales pitch has a slight leaning towards more adventurous types, rather than those looking for emergency power. It talks about the ability to charge cameras and drones, which makes this a great choice for those working out in the field for long periods.
Many of the basic specs are ideal for this scenario. There is the 1250Wh lead acid battery, the 1500W surge pure-sine wave inverter and the ability to charge up to 10 devices at once.
One of the additional selling points with this Goal Zero Yeti 1250 portable model is the chance to chain this generator up with other 100Ah batteries. This can extend the run time and capabilities and help users find the best set-up for their needs. Therefore, there is still a light, portable model with the potential to do more.
Related content:
Top 10 Best Solar Panels 2019
Top 5 Best Solar Attic Fans
6. Renogy Phoenix Portable Generator:
The second model of these two Renogy solar generator models is portable in an entirely different way. The Renogy Lycan above is all about providing power on the move in a large, capable machine. This time here for the Renogy Phoenix generator is a compact design where all the power and features are condensed.
There is a case design that opens up to reveal the solar panels within. These 20W monocrystaline panels create an all-in-one approach, with the potential for expansion with further panels. The 16 Ah Li-ion battery is enough for basic needs, and there are different port for various electronics.
The case itself is the star here, with the clever use of port on the side, the strong material, the secure latches and the carry handle. This is a more convenient approach for field work, as long as users don't have too much to power up. It is even possible to charge it up via the car cigarette lighter between locations.
7. Jackery Powerpro:
On the subject of looks, this portable Jackery solar generator definitely stand out from the competition. There is interesting approach to the design here. This model seems both robust and compact at the same time, with its sturdy feet, rounded edges and obvious ports.
The minimalist black and orange design suggests that it doesn't offer quite as much as other machines. Yet, there are 2 USB outputs, an 110V AC outlet and 12V car socket. There are also the nice extra touches of the LED flashlight and back-lit display.
The streamlined design makes this power generator pretty easy to use, and 12.5lb weight is significantly less than some of the other top rated solar generators here. Even so, there is a 500Wh battery that is more than able to handle the needs of most campers. It also only takes around 7 hours to charge via solar panels.
8. EasyFocus Portable Power Station: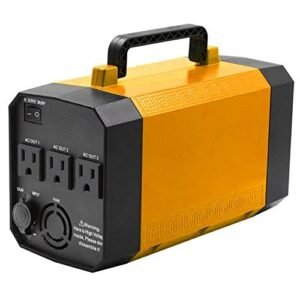 This EasyFocus solar generator is one where the manufacturers seem to want to provide a bit of everything. This small device is one of the weakest in terms of power, with the 200Wh battery. Yet, it has many of the outlets and features that buyers expect. It is also one of the most portable models in this guide because of the 5.2lb weight and strong carry handle on the top.
The solar generator has a 300W pure sine power inverter, 2 DC outlets, 4 USB ports and a cable for the cigarette lighter. This means that it has the potential to charge different types of electronics, as well as recharge from three different sources. The kit does also come with a MC4 solar connector cable, so it should be pretty easy to get this up and running with a compatible solar panel.
9. Kalisaya KP401 KaliPAK:
This is another solar powered generator where the makers understand their audience. The aim here is to provide power for a range of electronic items, including phones, freezer, drones and cameras.
Therefore, this should be a great tool for film makers and campers documenting their trip. This Kalisaya KP401 KaliPAK 384-Watt system isn't the most powerful, but can still handle multiple devices at once. There are 4 USB ports for personal devices and 2 DC ports for things like lighting.
There are two aspects to this product that instantly make it more appealing. The first is that it comes with a solar panel, unlike most of the other products in this guide. This means that this is closer to those all-in-one systems in the cases, without compromising on the performance in any way.
The second is the ability to use remote system monitoring via a smartphone app. This should appeal to the target market of technophiles.
10. POWEROAK Powerhouse:
The final model in this guide claims to be one of the lighter models, at just 12.3lbs, but actually seems quite big and bulky compared to some of the portable generators above. This is another option where ease of use is high on the list of priorities.
This portable POWEROAK Powerhouse solar powered generator has a carry handle for transportation and an easy-to-read LCD display. This display highlight the status of the battery and keeps users informed of any changes.
Once it is charged and ready to go, there are USB, DC and AC outlets for charging different types of electronics. That battery is a 400Wh lithium ion model, which the company claim is best for clean, reliable energy. With the right panels, this system should be able to handle plenty of needs on the campsite, or as an emergency back up power system.
Choosing the best solar power generator for your needs. 
There are some top rated solar generators here that look quite similar on first impressions. These large boxes tend to follow a trend when it comes to the power offered and basic specs. However, there are some small details to the displays, outputs and charge times that could separate the best from the worst.
This is where it is important to really understand the power you require for your trip and find a product to match those requirements. From there, you can then look at the portability.
Some of the compact models are great for campers, but not suitable for power-hungry applications or emergency power. Start with the power capabilities, then look at the wheels, weight and other helpful features.
The similarities in approach and purpose mean that it is important to really compare these models closely. Don't get drawn in by a nice design and flashy display without checking the finer details. At the same time, you don't want to base a decision solely on the power and find that the product is difficult to use.
Take your time and find the solar generator that best suits its purpose. Remember that this could be a valuable investment for many storms and camping trips in the future.