Is The Brightwatts Premium Solar Attic Fan As Tough And Reliable As It Sounds?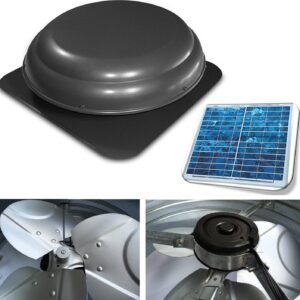 Solar powered attic fans are a great option for homes that want to cool things down in an environmentally-friendly way and the Brightwatts Premium Solar Attic Fan is an interesting choice.
Many of the parts are pretty straightforward, such as the 24V brushless motor and 12.6w high efficiency polysilicon solar panel, but there are added touches like the angle bracket and the use of rust-protected steel. The makers promise up to 1000 CFM with this unit and a venting capacity of up to 1200 sq. ft. Does it deliver?
Click Here to See Best Current Price on Amazon
How advantageous has this Brightwatts Attic Fan been for homeowners installing it for the first time?
One of the more commonly mentioned benefits with this product is the easy installation. It definitely helps that it arrives mostly pre-assembled and there is no electrical wiring required. What is interesting here is that despite this simple set up, this is designed to be a tough, durable model. The makers claim that it has been tested at "110 mph sustained wind with 8 inches of rain per hour and no water entry" and it is strong enough to handle "ice, flying debris and impacting winds".
Inside the home, the benefits continue with the ongoing user experience. There are some nice bonuses with this fan that make a big difference. Firstly, this model is pretty quiet. This has actually been noted by a lot of reviewers and it is clearly an important element.
Secondly, the long power cord allows for the best possible solar panel location. Thirdly, the unit is thermostatically controlled at 80 degrees to ensure that it is energy efficient and shuts down when the fan is not required.
What downsides have users reported in their testimonials for this Brightwatts Premium Solar Attic Fan?
There are a number of reports that suggest that this fan is effective at reducing the temperature of the upper level of a home, but there are also those that suggest that it could be faster and more efficient. Some have pointed the panel at direct sunlight and not seen a lot of movement.
As a result, some users have seen the need to buy a separate, additional panel to enhance the performance. This does of course increase the cost of the set-up, but it could help households save on energy costs in the long run. This appears to be worst of the criticism.
There have been some reports of faulty merchandise, but not many. There are also some buyers suggesting it could be even more efficient if it were painted white not black, but this might mean that it stands out on the roof a bit too much.
Summary: is this Brightwatts Premium Fan still recommendable with this feedback in mind?
This lack of negativity means that this fan is recommendable for most homes, even it is not quite as fast as powerful as some would like. In the right conditions, this combination of solar panel and brushless motored fan work really well to cool down a home and reduce energy costs.
It is true that an extra panel can make a big difference, but the Brightwatts solar powered attic fan is still a reliable product with the added benefits of minimal noise, great quality parts and easy installation.
You can find more customer reviews about the Brightwatts Premium Solar Attic Fan on Amazon here.