Does The Aqua Splash Swimming Pool Solar Blanket Reel Offer The Strength And Convenience Required?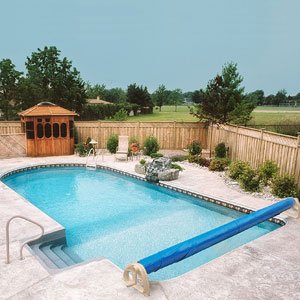 The Aqua Splash Swimming Pool Solar Blanket Reel is an interesting little accessory for all those that want more convenience as a pool owner.
Solar pool covers are a helpful aid for all pool owners, but it can be a hassle to bring them in everyday. This is where this reel system should help.
This device is designed to hold blankets for in-ground pools up to 16ft. The mechanisms and strong components are designed to allow users to reel the blanket in with minimal effort and time.
This all sounds great for those that don't want to get wet setting up the pool, but does it actually work?
Click here to see pricing
How beneficial has this Aqua Splash Solar Blanket Reel actually been for pool owners?
The main selling point with his device is the idea that it will provide a convenient way to roll up and store the solar blanket on the pool. It is designed to save time and effort with the motion of the reel and capacity for a large blanket.
Most find that this system is incredibly easy to use and that its saves a lot of time. This is largely due to the use of the wide track baring and the shape of the handles.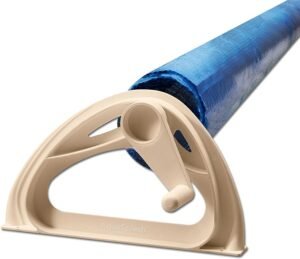 Then there is the fact that this can be used in a number of ways thanks to the "unique" three-way end design. Most will keep it at the side of the swimming pool for easy access. Others will take advantage of the fact that this can be mounted to the fence. This gives choice for different pool configurations.
The added bonus here is the fact that it is pretty easy to put together wherever users wish to place it. Then there is the choice of adding caster wheel for added versatility and freedom of movement.
Are there any downsides to this Aqua Splash Swimming Pool Solar Blanket Reel that limit its function?
As for the problems with this solar blanket device, there are some that feel that it is a little cheaply made and flimsy for their needs. Few deny that the telescoping tubes are indeed strong enough to prevent sagging, as promised.
However, there are some issues with the weight. This means that while this is easy to carry around and mount wherever it is required, it does have a tendency to blow over in the wind.
There are also concerns over the long term durability here, something that is enhanced by reports that the straps tying the blanket to the reel rot away pretty quickly.
Summary: is this Aqua Splash Pool Blanket Reel still recommendable with all of this in mind?
There are some clear durability issues with this device, but nothing that the designers cannot improve upon in future models. With a heavier weight and better straps users would have no concerns at all with the strength and placement of the system.
The basic function is there, as it still winds in the blanket with ease and saves on time and effort. The appeal of this Aqua Splash solar blanket reel is therefore pretty strong for all those with the right type of pool and blanket.
Find more reviews about the Aqua Splash In Ground Swimming Pool Solar Cover Blanket Reel on Amazon here.