Is The ALLPOWERS 80W Foldable Solar Panel SunPower Solar Charger A Great Choice For Backpackers?
The ALLPOWERS 80W Foldable Solar Panel SunPower Solar Charger is a highly appealing option for campers that are keen on a large, powerful solar setup for the campsite, but want something as portable and easy to use as
possible. This folding system comprises of a series of 12 panels, with an 18v dc output and dual USB ports.
It also comes with 10 laptop connectors, a cigarette lighter plus and a user manual. There are plenty of promises on the power, reliability, green credentials and durability of this device.
The question is, does it work well enough for a camping or backpacking trip?
Click Here to See Current Price
What benefits have users highlighted when reviewing this ALLPOWERS 80W Foldable USB Solar Panel online?
The cool thing about this foldable solar panel is the way that it folds up into what is essentially its own carry case. There is a strong backing and a flap on one side that means that once the panels are folded away correctly, it all comes together in an easy to carry design, complete with the carry handle. This means that it should be easy to transport this solar power device around on trips because of the simple process and compact size.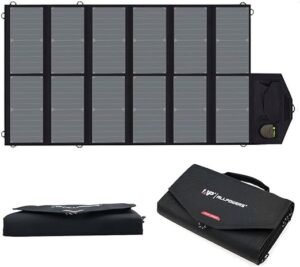 This is enhanced by the use of the eyeholes for attaching it to a backpack and the lighter wight. This is meant to be a third lighter than comparable models.
As for the durability of this model, there are promises of a tough exterior to protect against water, dust and shock, and it seems to work well enough.
What limitations have users noted when testing out the true potential of the ALLPOWERS 80W Foldable Solar Panel in the wilderness?
This portability is important for backpackers, but so its the performance and charging power. This is a battery-free system, with the promise of 22-25% efficiency in the sun.
There are some users that are perfectly happy with the power to small items, as there is some consistency here. Then there are those that see the limitations.
First of all there are those that feel it only really performs to its best in direct sunlight, which isn't always a guarantee with camping trips in shadier areas. Then there is the fact that it works much better on maintaining the battery life of a device than recharging it. There are some that tried their completely dead devices and had no luck at all.
Summary: what does this all mean for a final verdict on this ALLPOWERS 80W Foldable Camper's Solar Panel ?
There are limitations to this solar system, which probably comes down to the wattage of these devices and the lack of a battery hook up. A more substantial system would be more reliable for those bigger tasks. However, this added weight and size would decrease those benefits of the simple folding design and portability.
In the end, this does well as providing the sort of performance that users need in the situation, and does meet the most important sales promises for a rugged, backpacking-focused device. The ALLPOWERS solar panel isn't the strongest option around but it suits its target market of campers very well.
Find more reviews about the ALLPOWERS 80W Foldable Solar Panel on Amazon here.