Is The ACOPOWER 120W Portable Solar Panel Kit Too Light And Weak?
Portable solar systems, such as the ACOPOWER 120W Portable Solar Panel, have become must-have tools for many campers and backpackers.
They want a solar panel, charge controller and all the right additional kit to handle the charge on their most essential electronic items.
This neat little solar kit includes a folding 120w panel, 10A charge controller, USB port, MC4 connectors and bungee loops. Does it all come together into a helpful aid?
Check Price and Availability Here
The Pros and Cons of this ACOPOWER 120W Portable Solar Panel Kit:
Pros:
A small size for portability
Simple connections and general ease of use when camping
A pretty reliable performance for small scale needs
Cons:
It will struggle beyond the more basic charging needs
There are some questions over the durability
The ACOPOWER 120W Portable Solar Panel really does bring together all the right components in one neat package.
The best thing about this portable solar system is that the designers have taken that idea of portability a little further than others. In many cases a portable design simply means a panel that will fold up, and some additional components that don't take up too much space.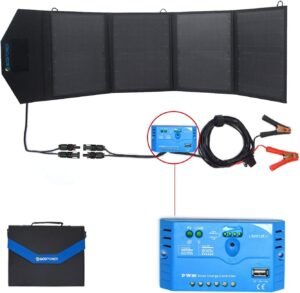 Here the panel folds up into a nice suitcase design with its own protective waterproof covering. This means even less effort when packing up and no issues with transportation.
An added bonus is that not only is the charge controller compact, it came pre-connected for many users.
This doesn't mean all that much without a good performance. For the most part, buyers are impressed with the output of this device. It isn't especially powerful, but it does the job for basic campsite needs with few concerns over efficiency.
Most can plug everything in, leave it to get to work and not have to worry about it from there. There are some that question the output and see the limitations in the power supplied, but many may be a little optimistic about such a small system.
The downside to a smaller, portable model like the ACOPOWER 120W Portable system is durability.
This is a lightweight model, with an 8.95lb weight with the panel and controller combined. This is great for travelling between sites, but not so good in breezier conditions. A couple of users have noticed that the panels need to be strapped or weighted down in these conditions.
This could limit out put as some of the cells are covered. There are also questions over the weatherproofing on the cells, rather than just the covering on the back of the package.
How do these issues affect the final recommendation on this ACOPOWER 120W Solar Kit?
There are limitations here in what this system can do. It is a little too small, lightweight and possibly weak for large scale applications. However, there is a lot here that appeals to those after basic needs while out in the field. This system has the size and smart design that make it easy-to-use when backpacking in the country.
There is enough power for small scale electronics and enough reliability to set it up with ease at each destination. The ACOPOWER solar panel isn't perfect, but it has enough potential.
Find more reviews about the ACOPOWER 120W Portable Solar Panel Kit on Amazon here.