Is The Vmaxtanks Vmaxslr125 Solar Panel Battery As Strong And Effective As Promised?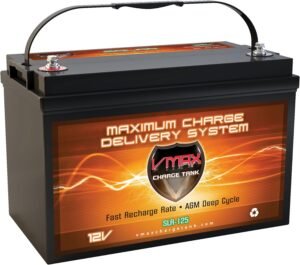 The sales claims for the Vmaxtanks Vmaxslr125 Solar Panel Battery are so bold that they are printed on the side of the unit. The makers promise a maximum charge delivery system and a fast recharge rate with this 12 Volt 31 AGM deep cycle heavy duty battery.
It is designed for use with solar panels, smart chargers, wind turbines and inverters and should therefore be a versatile, reliable option. Is this the case?
Click Here to See Best Current Price and Read Customer Reviews on Amazon
How beneficial has this Vmaxtanks Vmaxslr125 been for users looking to set up their new solar power system?
The main benefits with this solar power battery has to the power offered and the reliability. There are always enthusiastic reviewers that say that these units power everything they possibly can, but it seems to be true here.
Cabin owners, RV users and boat lovers are all seeing quick, clean power to all of their appliances with no noticeable dip in the supply. Furthermore, it seems to be pretty easy to install with the added bonus that some units came partially charged. This cuts down the waiting time significantly.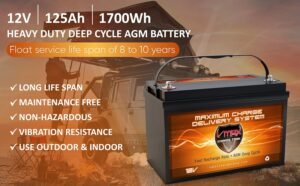 There are also a number of comments suggesting that this is a pretty tough, durable piece of kit that is built to last. The specification states that it has military grade plate and buyers wont dispute this.
With the right set up of this battery and a good panel and inverter, consumers could be set up for a number of years to come. There is the promise of a float service life span of 8-10 years.
Are there any downsides to using this Vmaxtanks Vmaxslr125 Heavy Duty Solar Panel Battery?
At the time of writing this review, this solar battery has a buyer satisfaction rating of 4.8 out of 5. There are no major problems with this system that hold it back, but there are a few small issues to watch out for. The first is simple: this is a heavy battery that users may struggle to carry to a cabin or onto the boat.
Secondly, there is a warning about deep cycling this battery too often. It is meant to be built to take it, but buyers warn that it will decrease the effectiveness over time. The other small issue regards the attention to detail. There is a small nylon handle to aid portability, which is a nice touch, but many buyers have had to buy extra cables and other accessories to set it up properly.
Summary: does this lack of negative feedback mean that this Vmaxtanks Solar Battery is highly recommendable?
It is hard not to recommend this battery, simply because there are so many 5 star reviews talking about the great performance. It seems that users of all walks of life can use this battery for a variety of set ups as there are as many people setting up a solar system on their boat as there are cabin users.
The Vmaxtanks battery is easy to install and use and powerful enough to meet the needs of most users. With a few more user-friendly features it could be perfect but, even so, there are still plenty of buyers keen to get another to increase the potential of their solar system.
Find more reviews about the Vmaxtanks Vmaxslr125 AGM Deep Cycle 12v 125ah SLA rechargeable Battery on Amazon here.