A Guide To Choosing Between Top Rated Solar Panels
Solar power is a great resource for anyone that likes to go camping, or that wants to bring a greener approach to their home energy use. There are lots of different solar kits and set-ups that homeowners, campers and boat owners can take advantage of.
Contents:
A Guide To Choosing Between Top Rated Solar Panels

Renogy 200 Watts Monocrystalline:
WindyNation 100 Watt Solar Panel:
HQST 100 Watt Polycrystalline:
Grape Solar GS-STAR-100W Polycrystalline:
Go Power! GP-PSK-120 Portable Folding Solar Kit:
Komaes 200 Watts Monocrystalline Solar Kit:
ECO-WORTHY 400 Watts Off Grid Solar Power System:
Renogy 100 Watt Foldable Solar Suitcase:
MOHOO 100W Foldable Solar Panel:
ACOPOWER 100W Foldable Solar Panel:
None are going to be effective without a well-made, effective solar panel at its core. Some users will make do with the one, durable panel for their needs.
Others will enjoy larger system that are adaptable with multiple panels. Either way, it has to have the right solar cells and materials for reliable power. This guide will look at 10 top rated solar panels in three distinct categories. They are the solar power kits, the single panels and the folding models.
Check Out The Top 10 Best Solar Panels
What should you look out for when choosing top rated solar panels?
The first thing to consider is the purpose of the panel. This will give some sort of idea of the power and specification needed. Those that are camping, and just need something to charge portable electronics, can get away with a smaller, less powerful model. This is also where folding models come in handy.
Then there are the more powerful, industrial set ups, or something in the middle for RV camping or boats. Those looking to add power to their boat might also benefit from bendable models.
The output and efficiency of the solar panels and convertors are important here, but there are other factors to bear in mind. Some companies offer a strong, well-made panel with little else in the box. Others go for more complete packages.
Even then, it helps to look at the number of connectors, the length of the cables and the inclusion of any mounting hardware. The durability and materials are also important to determine the capabilities and strength of the panels in the great outdoors.
1. Renogy 200 Watts Monocrystalline:
Solar power kits are a great starting point for anyone that wants to create something more substantial. This is especially true for those that are starting from scratch, or those with a clear goal in mind.
This Renogy 200 Watts 12 Volts Monocrystalline Solar Bundle Kit is a simple set up for first timer news to solar systems. Buyers should note that this is the smaller bundle kit and doesn't have some of the extras like the mounting kits or cable housing.
Still, it does have a selection of helpful components. Users start off with the 2 100w panels, as well as a 30a charge controller, 9inch MC4 adaptor kit and the appropriate connectors. Newcomers unsure of their aims will like that this model is adaptable up to 400w – which means rooms for two more panels.
This model was also upgraded with a new Renogy negative ground charge controller, which allows for safer off grid capabilities than some older models.
2. WindyNation 100 Watt Solar Panel: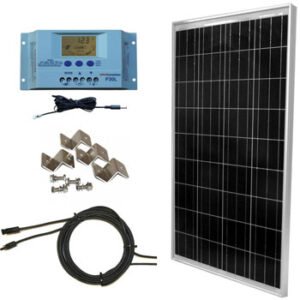 This WindyNation solar kit goes a little further than the basic Renogy one in two different ways. First of all, there is the use of mounting brackets for ease of installation. This should help those looking to set up the panel in a more permanent location.
Kits without brackets aren't exactly plug-n-play style options, whereas this can be up and running pretty quickly. The additional solar cable and MC4 connectors help with that.
The second thing is that this is also quite powerful. The The combination of the 100 Watt solar panel and LCD PWM charge controller leads to an average of 350 Watt Hours/ 33 Amp hours of charge per day.
This is great for RVs and cabins that require a little more power to multiple devices, as well as for back-up power. The LCD display is nice bonus feature to make this even easier to use.
3. HQST 100 Watt Polycrystalline:
This HQST solar panel is another one that seems a little weak on its own, but would do brilliantly when coupled with multiple models in a larger set-up. Many people will focus in on the power offered by the panel, and the efficiency.
This is the main feature in any basic panel after all. There is an optimal output of 500Wh per day, with high-efficiency conversion via the bypass diodes. Efficiency also comes from the high transparency to get the most of the sunlight – provided it is angled in the right direction.
However, the most interesting aspect of this model has to be its strength and durability in different conditions. To begin with there is a tough aluminium frame that protects the panel from damage.
This continues with the iron-tempered glass, which is impact resistant for even more strength in bad weather. It is able to handle high winds and snow loads of 5400Pa. This is perfect for those that want year-round power in more difficult climates.
4. Grape Solar GS-STAR-100W Polycrystalline: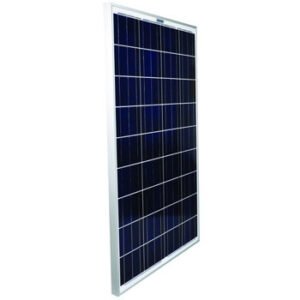 Then there are the products where users receive little more than the panel. There are two benefits to this approach. The first is that it covers all the basic needs for those starting out, without getting to complicated or expensive. The second is that it offers a well-made additional panel for a current set-up.
This Grape Solar 100 Watt Polycrystalline Solar Panel is a great example of this. It is designed for basic use with emergency power, electric fences and gates and some lighting.
It can't handle anything too intense on its own. However, there are other features to this panel that show it will be a good extra panel in a tougher system.
It has a high-end silicon material for high module conversion efficiency, as well as a strong frame. Buyers should note that it comes with the MC4 connectors, but not the charge controller.
5. Go Power! GP-PSK-120 Portable Folding Solar Kit:
Then there are the panels that still work brilliantly for the benefits above, but also have additional features that aid with transportation. This Go Power foldable solar panel kit is a great place to start because the main focus here really is with the portable elements.
It folds up into half the size for transportation, so users can still enjoy effective solar capture in the right sized device. It also has a folding stand at the back to help users angle the panel into the sunlight.
This all enhances the efficiency of the panel in its chosen situation. The main purpose of this panel is as a 120w kit for charging batteries on a campsite. The word kit seems a little odd when we compared this to the top rated solar panel kits above. Yet, it does come with the controller cable and battery clamps.
Related content:
Top 10 Best Solar Generators 2019
Top 5 Best Solar Attic Fans
6. Komaes 200 Watts Monocrystalline Solar Kit:
This Komaes 200w 12v solar panel kit goes a little further again than some of the other models available. One of the features that really stands out in the specification is the greater reach on the cables. This kit has both a 20ft tray cable and 20ft MC4 Connectors. This is much longer than users will find with other models on the market.
This greater reach should mean greater mounting opportunities to help RV owners and home owners find the optimal place for all the components. Other models require extension cables, which can be a security risk. The addition of the Z brackets increases these mounting options.
Once in place, this system can provide 500 watt hours each day from the 2 100w panels and 20A charge controller. This means that it should charge a 50Ah battery from 50% in 3 hours. Another interesting thing about this is the focus on industrial use in the sales photos. There are images of vast solar farms and roofs full of these panels.
7. ECO-WORTHY 400 Watts Off Grid Solar Power System: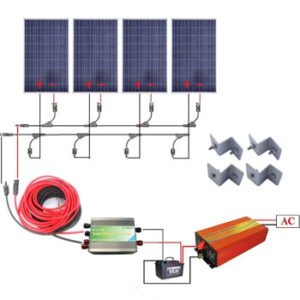 The main selling point here with this ECO-WORTHY solar panel bundle is that there is a bit of everything in this kit. It seems a little more extensive than some of the other models, especially as there are four 100w Polycrystalline solar panels already.
This means high power from the get-go, with little need for expansions. There is also the 1000w pure sine wave inverter, a 30A PWM controller all the right MC4 Connectors and some Z mounting brackets.
This comprehensive set-up should offer everything that most users need to get started. It also means a great output of 1600 Wh/135 Amp each day.
Additional advantages to this kit include the 32 feet solar cable adapter and the protection on the IP-65 rated junction box. This is safe against environmental particles and low pressure water jets, so great on cabins in the woods.
8. Renogy 100 Watt Foldable Solar Suitcase:
The folding elements of any portable solar panel are important, but there is more to a good design than that. A good folding design brings down the dimensions of the product for ease of transportation. With this foldable Renogy model, this becomes as compact as 19.9 x 27.2 x 2.8 inches.
Then there is the durability of that "suitcase", which is meant to protect the device in transit. Here is there is a strong material, as well as a heavy duty handle and tough latches to stop it from popping open. This durability continues with the corrosion-resistant aluminium stand.
Strength also comes from the power offered by the system, and there are other great security features. This Renogy portable solar suitcase provides 500 watt hours per day with a 5-stage charge controller.
The added benefit with this approach is that it also provides overcharge protection. Added security comes from the negative-ground charge controller.
9. MOHOO 100W Foldable Solar Panel:
This Mohoo solar device is also known as a bendable model. It is important to point this out as it gives this model a different purpose to the other folding panels in this guide. The folding design on this frameless panel is useful.
However, these features aren't that special. The bendable element is more appealing. It can adapt its shape to a curve of 30 degrees, but no more. This allows for use on curved roofs of RV cabins, the sides of boats or other structures. This can therefore provide better sunlight capture than other devices.
Other important details in the specification for this panel are the use of tough glass and aluminium – which is again useful on boats – and the efficiency rating. This MOHOO 100W lightweight solar panel has a higher-than-average efficiency rating of between 23 and 25%. This should mean a better experience and charging capability for RV and boat owners.
10. ACOPOWER 100W Foldable Solar Panel:
Portability is important with this ACOPOWER foldable solar kit, but there is a greater focus on the ease of use and a quick set-up. The panel folds down into a compact shape of 19.69 x 25.6 x 2.9 inches. This is actually comparable with the model below.
It is also light enough to carry with ease, at 33.1 pounds. That compact shape has a suitcase design, which allows for greater protection and longevity for the product. This is vital for all those looking to take this out on multiple trips over the year.
Once it is time to set this system up on sight, the makers promise that it will take no more than a minute. This is down to the simple folding frame and the fact that users don't need any additional mounting hardware. Times will vary between users. Once ready, the 50w high-efficiency panel provides just enough power for basic needs.
Choosing the right top rated solar panels for your needs.
There are different directions that consumers can take here, depending on their needs. The folding panels above have great potential for users on the move, espcially those with strong cases and high-efficiency cells. The extra capacity and low weight are great for campers that still need power.
Those in RVs, with higher needs, can turn to larger kits and larger panels for a more reliable output. Effective kits and strong panels can power plenty of items in high winds and even snow. Then there are the weaker, more accessible systems for newcomers.
One 100 watt solar panel with a convertor and the right cables is a great starting point. Some bonus mounting hardware always comes in useful.
Whatever your purpose, it is important to compare the specifications and reviews to find the best solar panel for the job. This is where the finer print and numbers come into play.
Check the efficiency rating and output, and well as any dimensions and optimal snow loads. Dig deeper to see how tough, bendable and portable they really are. This research will uncover the ideal top rating solar panels or systems for you.