Can The Suntactics sCharger-14 Portable Solar Charger Provide The Speed And Reliability Hoped For?
The designers of the Suntactics sCharger-14 Portable Solar Charger have made some clever, simple decision with their sales pitch to lure in buyers; there is talk of all the top brand devices that can be charged, there are lots of intriguing photographs of the product in use and there is a big "made in the USA" sign.
This product uses an anti-feedback dual USB port design to charge two gadgets at once, with speed, and seems to be the ideal purchase for modern day campers and people out in the field. All this talk of reliability and compatibility it great but does it live up to its own hype?
What advantages have buyers seen when testing out this Suntactics sCharger-14 Portable 2.8 Amps Solar Charger in the field?
Speed is a key factor in the product description and this has been echoed in the reports of users that are especially pleased with the small window of time needed to charge an iPhone, who also mention the benefit of the time chart. This chart acts as a guide on how fast different devices will charge but this should taken as a rough estimate because of other potential factors and issues, as will be seen below.
Another commonly mentioned factor is the range of potential devices to be charged, with tablets, phones, eReaders, and some USB devices all on the list. It is also worth noting that many of those that have been impressed with these charging abilities have prior experience with these sorts of products, often having come to this example from other, less reliable options, and they have been pleasantly surprised with the results.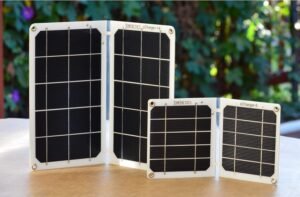 The speed and ability to charge these gadgets simultaneously are, understandably, the top benefits with this Suntactics sCharger-14 Solar Charger, especially for desperate technophiles that need a charge in a hurry; however, there are other, secondary features that increase the panel's appeal and reliability out in the wild.
Suntactics are keen to talk about the tough components and rugged nature of the product and buyers agree, highlighting its durability on tough treks and the extent of the weatherproofing – the panel being able to withstand water 40ft deep. Furthermore, the product is lightweight, although not the smallest model around, and it has the added bonuses of a well-designed carry-case and and LED indicators on the USB ports.
What are these potential variables and issues that effect the performance of the Suntactics sCharger-14 Portable Solar Charger and what other drawbacks have been experienced when using this device?
At the time of writing this review, 32 out the 39 reviews on Amazon at the time of writing gave it a 5 star rating. This says a lot about its quality, but what about those customers that were less satisfied?
It seems that this charger is a little more problematic with iPads and tablets than phones and some users have docked stars because their devices did not automatically recognise the charger. The charging guide does says 3-7 hours for an iPad, which is a bit broad, and while there is supposed to be "auto-retry technology" for the more temperamental gadgets, this doesn't always seem to work.
Naturally, this device works best in direct sunlight and cloud cover does appear to affect tablet charging significantly. Another criticism is that there aren't enough ways of attaching it to anything to improve its position and catch more sunlight – it has mounting grommets but no secure hooks or straps.
Finally, there is the important observation that the panels can get very hot, which makes the choice of its placement in the sun doubly important: do not leave them too close to the gadgets else they could get damaged.
Summary: just how strongly can this Suntactics sCharger-14 be recommended given the overall ratings?
Clearly, the high percentage of 5 star reviews and the fact that there are so few flaws compared to benefits means that this device is easily recommended. Not only that, the design, ease of use and performance mean that pretty much anybody that requires a charger away from an electrical outlet should find that this product meets their needs to some degree.
It can be temperamental in cloud – as can all panels – and it could also do with a few more attachments and be more reliable with tablets; however, the speed with which it does charge phones in the adequate amount of sunlight, combined with the simultaneous charging and tough construction, mean that this Suntactics solar charger is a very reliable and desirable product for campers, survivalists or professionals that are simply out in the field all day.
You can check out more customer reviews about the Suntactics sCharger-14 Solar Charger at Amazon here.