Does The Seiko Men's Prospex Solar Stainless Steel Dive Watch Live Up To Its Name?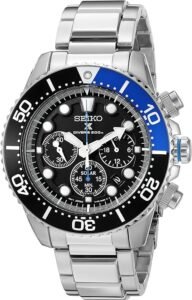 The US-made Seiko Men's Prospex Solar Stainless Steel Dive Watch is a large, stainless steel watch that looks as though it should provide users with a lot of valuable information. The 43mm case hold a Hardlex window and a dial containing markers and three subdials.
The name of this watch points out two important words that buyers are sure to have questions about: solar and dive. Are these qualities apparent in this watch or have users seen some problems?
Check Price and Availability Here
What benefits have buyers appreciated about this Seiko Solar Dive Watch?
The fact that 77% of users give this model 5 stars means that there is clearly a lot to love about this solar watch. Some buyers highlight the look, with some mentioning the masculine look and great use of blue and silver, while others talk about the reliability of the movements and stopwatch functions. The Seiko watch boasts a Japanese quartz movement that seems to work well enough for most needs and has additional features like the secure clasp and adjustable wristband.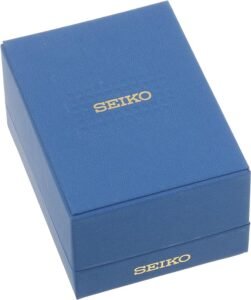 As for the dive element of the watch, it is important to note this warning from Seiko. The watch is built to be water resistant to 200m and they claim that it is suitable for "professional marine activity and serious surface water sports, but not scuba diving".
This immediately raises a red flag for keen divers, although there are still plenty of swimmers and divers that have travelled to reasonable depths with no complaints. The waterproofing works well and apart from an issue with the blue marker, it feel secure enough to wear out in the ocean. There is also the fact that it is comfortable to wear in the water. It is heavier than some expected, but not in a negative way.
What problems have buyers mentioned in their reviews for this Seiko Men's Prospex Solar Powered Watch?
One of the problems with this model comes from that solar elements. This watch is designed to be a solar powered model with a black dial with luminous hands and there are two immediate problems here.
Some users say that they have trouble keeping the watch running for long periods unless it is a particularly sunny day. Others point out that the secondary dials and date are difficult to read against that black background. An additional problem here is the fact that the watch has no indicator to tell users how much power is left.
Summary: how does this all affect the final verdict on this Seiko Solar Powered Diver's Watch?
The appeal of this watch seems to depend on its intended purpose. If you are buying this watch for its solar charging, it may be worth looking for a more reliable, strong model. If, however, you are looking for a strong, attractive time piece with the ability to reach a decent depth and some helpful dials, there is a lot of potential here. The Seiko solar watch is not the most advanced diver's watch around, but it does a good enough job for most users. With a clearer dial and better solar charging, it could earn 5 stars.
You can check out more customer reviews about the Seiko Men's SSC017 Prospex Solar Stainless Steel Dive Watch on Amazon here.