Is The Renogy 150 Watt 12 Volt Monocrystalline Solar Panel As Tough And Reliable As Advertised?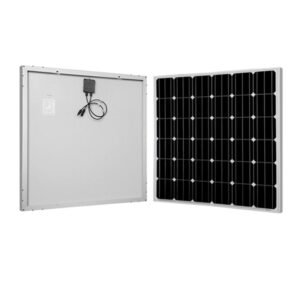 The look of the Renogy 150 Watt 12 Volt Monocrystalline Solar Panel and the basic specification may go past some novice users. However there are some interesting aspects to the sales claims that do make it stand out to anyone in need of a reliable set-up.
This system has high modules for conversion efficiency, a guaranteed positive output tolerance of up to 3% and a strong frame with hole for drainage and mounting options.
This seems like a great option for anyone that needs some extra help with a solar installation, but does it work?
See current price and read customer reviews here
What benefits have been mentioned when reviewing this Renogy 150 Watt Solar Panel online?
For the most part, buyers seem to be pretty happy with the quality of this panel and the way that the performance matches the claims in the specification. The first example of this is with the efficiency of the panels and their reliability for a strong output.
Many buyers have given this set up the full five stars because they could be sure of a strong performance. It promised to be "excellent" in low light environments and doesn't seem to disappoint. There are also those that say that it offers the power that they expected for the size and features.
Then there are those that compliment the system for its strength and durability. Again, there were some impressive sales claims to live up to, but it seems to have done the job well enough.
The most interesting of these is the idea that it can handle high winds up to 2400Pa and snow loads as heavy as 5400 Pa. While few have dealt with weather conditions quite this adverse, there are still those that believe it will hold up because of its performance in storms.
This idea of strength is enhanced with the use of the heavy duty anodized extruded aluminium frame.
What downsides have buyers experienced with the Renogy 12v Monocrystalline Solar Panel?
At the time of writing, the feedback for this system was incredibly positive. 87% of people had awarded it 5 stars for its performance and build and had no major complaints to make. However, there was a small minority that offered lower rating reviews. For some, the panel did not perform as hoped.
This could have been due to too high an expectation or a faulty panel, judging by the response of the other users. Then there are those that simply marked down because of problems with the packaging, which caused damage.
Summary: what does this all mean for the final verdict on this Renogy Monocrystalline Solar Panel?
We cannot discount the negative reviews too much because there are some unfortunate experiences. However, these experiences do not appear to be directly due to the design of the panel.
Instead, there seems to be a strong sense of reliability with this model which means that many users can appreciate the power and performance. When we combine the benefits of the power, strength and design with the wealth of comments for users using this set-up for boats and other important solar systems, it is easy to recommend the Renogy solar panel for use.
You can find more customer reviews about the Renogy 150 Watt 12 Volt Monocrystalline Solar Panel here.