Is The Komaes 200 Watts 12 Volts Monocrystalline Solar Starter Kit Enough For Those Starting Out With Solar?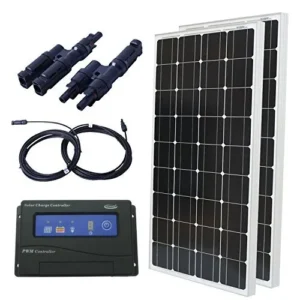 The Komaes 200 Watts 12 Volts Monocrystalline Solar Starter Kit is a simple looking 200w/12v kit to get users started in the world of solar system.
The aim here is to provide enough power in a convenient source for small scale off-grid power systems and additional power in rural situations.
Any good product that calls itself a starter kit needs to have some basic features and considerations in place to get started. Here we have the solar panels, Komaes 20A PWM charge controller, Solar MC4 connectors and other wiring as needed. Is this enough?
What benefits have buyers pointed out when reviewing this Komaes 200 Watts Solar Kit online?
The promise here is that this system will provide a high output and conversion rate thanks to the high efficiency of the solar cells and advanced cell encapsulation. These panels are designed to offer great light transmittance thanks to the use of tempered glass and efficient conversion of power.
There are indeed plenty of positive comments from users on the power and effectiveness of the system, with users using this in different situations for consistent power to major electronics.
There are those that say that their lighting, appliances and air conditioning systems all powered in one RV with this hooked up to the roof.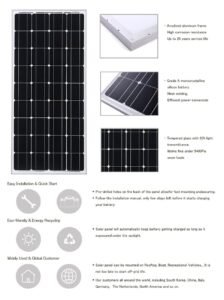 There is also the promise of a tough system built to last thanks to the use of corrosion resistant anodized aluminium in the frame and the ability to work in all weather conditions. There is even the claim that it is functional under snow loads of up to 5400 Pa.
This is something that hasn't been tested to its full ability by many users, as most are reviewing this pretty soon after setting up. Some feel that there should be few issues with the security of the system if mounted correctly, which leads to the downsides seen.
Why is the mounting process a problem and are there any other flaws to this Komaes 200W Monocrystalline Solar Panel?
This 200 watt solar panel system offers a simple installation process due to the pre-drilled holes for mounting and the instruction guide. However, there is no mounting hardware included in the pack, so this is an extra cost and slight inconvenience for those expecting everything to be included in the box.
There is also some confusion with mislabelled wires, but nothing that can't be easily fixed with a careful inventory of all the parts.
Finally, it should be made clear to buyers that the battery doesn't come with this kit either, that is another separate purchase to make. Still, most expect this and are pretty happy with what they get.
Summary: does this lack of negativity mean that this Komaes Monocrystalline Solar Power Kit is still highly recommendable?
Overall, most buyers seem to feel that this was money well spent because of the quality of the system and the power offered. There will be those that wish that a little more came in the box, but there is little doubt that the quality of these pieces is very good.
With the right application and installation, and a good accompanying battery, these powerful panels and reliable convertor can really help new users. This Komaes solar panel kit is a great starter kit for RVs, boats and other situations.
Find more reviews about the Komaes 200 Watts Monocrystalline Solar Kit on Amazon here.