Is The PowerOak 400Wh Portable Solar Generator Reliable Enough For Campsites?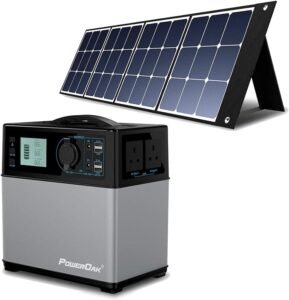 Solar powered generators like the PowerOak 400Wh Portable Solar Generator are seen as the green, user-friendly equivalent to old-fashioned, power-hungry models.
This unit is an indoor and outdoor model that is seen as a great choice for campers due to its simple solar charging, portable design and strong Samsung lithium-ion battery. Does this generator meet expectations?
Click Here to See Best Current Price on Amazon
How beneficial has this PowerOak Generator been for new users?
There are some great comments in the users reviews for this system about the ease of use and the general user-friendly design of this system. It is light at just 12.3lbs, especially compared to other generators, and it has a simple operation via a decent console.
The display shows the current capacity, charging status and any failures. It appears that the system is also pretty simple to set up and charge and the kit should have everything that users need. There are cables for the solar panel, car charging and an AC wall charger – just in case solar is not an option.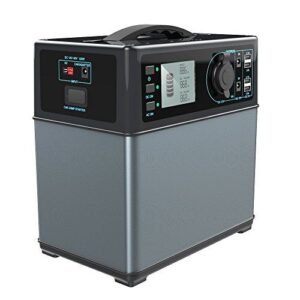 This ease of use means that many buyers have been able to take this generator on camping trips in order to charge important equipment. Some are using it to power CPAP machines while other use it for more basic electronics. The added bonus here is that this solar-powered option also appears to be much quieter than typical generators, so it is not disturbing other campers at night.
These positive reports show that this machine can work pretty well in some situations. Most users with minimal needs and expectations seem to be impressed with the charging and output on-site. The problem is that there are also a number of users that fail to get the power they need.
Why is the power output such an issue with this PowerOak 400Wh Portable Solar Generator?
There is a clear divide in the reviews for this machine. There are the 5 star offerings that have nothing but praise for the performance and design and there those that deduct stars for weaknesses in the power generation and output. Some find that it is pretty easy to charge this machine up to 100% capacity and get plenty of power for energy-hungry appliances.
Others either struggle to get up to 80%, or even 60%, can't get a decent charge on simplistic electronic items or find that it shuts down too quickly. This is where that informative battery status indicator is both a positive and a negative. The unit has an inbuilt shut-down system where it shuts down at 10% and needs to be recharged.
This means that some users may only get half the intended capacity before having to hook up the solar panel again.
Summary: how does this affect the verdict on this PowerOak Portable Charger?
There is the sense that there is a bit of a gamble to buying this unit and there are some theories that the unhappy buyers mentioned here simply received units from the same bad batch. The PowerOak solar power station is still recommendable to those that want a solar option because of the potential.
At its worst, it is a little weaker than anticipated and needs charging more often. At its best, it is a powerful unit with easy-to-use controls, helpful indicators and portable design. In the end, this system can still make a big difference at the camp site.
Find out what other people are saying about the PowerOak 400Wh Portable Solar Generator on Amazon here.