Is The Poweradd 60W Foldable Solar Panel The Ideal Model For Campers?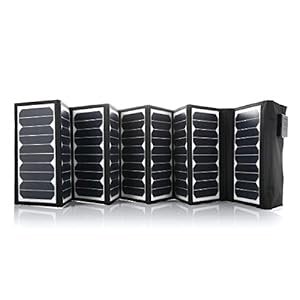 There are many interesting features in the specification for the Poweradd 60W Foldable Solar Panel, such as the voltage regulator, range of charging outputs and the different appliances it promises to charge, but the key feature here is the portability and the chance to use this on the camp site.
There is a surprising amount of surface area within this 60w folding panel, which suggests plenty of power and the ability to charge plenty of appliances, but does it live up to its "high efficient" name and give buyers the performance they are after?
>>Click Here for Best Current Price<<
What benefits have buyers enjoyed when using this Poweradd Foldable Solar Panel?
As this is a model ideally designed for camping, the ability to transport it between locations is one of the most important features. Those that have merely tested it out at home to get and understanding of its capabilities have said that they are keen to use it as a power source for the camp site and praise the way that it folds up small enough to fit into a backpack as well as the protective outer case. The decision to stitch the PET panels into a waterproof canvas is both clever and rewarding.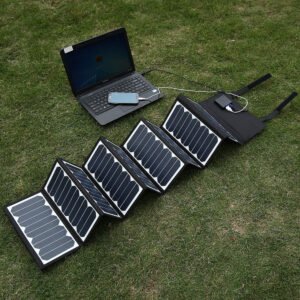 This desire to use it more often is partly due to the power it offers and its ability to charge items in tougher conditions. Some have said that even on winter's days through a window, the panel still manages to generate power – albeit slowly – which means that its reliability outside on sunny days is impressive.
A number of users have been pleasantly surprised with the speed in which their iPhone have recharged via this simple device, meaning that campers should rarely be without a means of contacting the outside world.
What problems have buyers experienced with this Poweradd 60W Foldable Solar Panel?
With 4.5 out of 5 stars to its name on Amazon.com, there are clearly more positive reviews than negative ones and the general viewpoint seems to lean towards this idea of a capable, well-designed device
Having said this, there are some issues when connecting the panel to certain item. In some cases there is just the occasional error message that is soon resolved but others are not supported at all and larger, power-hungry items like laptops can struggle. Poweradd may have intended for it to work on "notebooks, laptops and many other devices" but this is not always the case.
Summary: how do these issues affect the final verdict on this Poweradd 60W "High Efficient" Foldable Solar Panel?
This panel is not perfect because of these issues but the potential behind it and its ability to be packed up so neatly and used outside to power up phones and tablets means that many campers will definitely enjoy the benefits.
In the end, the final recommendation with this Poweradd solar panel is that it really is a clever little gadget for powering small electronics out on the camp site but if you have larger, important pieces of equipment and are in a hurry then it may not have the power and speed you are after.
You can check out more customer reviews about the Poweradd High Efficient 60W Foldable Solar Panel Portable Solar Charger  at Amazon here.