Is The MicroSolar 12V 2000W Pure Sine Wave Inverter As Powerful And Reliable As Hoped?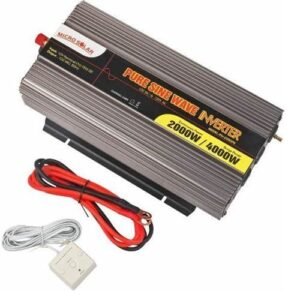 The MicroSolar 12V 2000W Pure Sine Wave Inverter is quite a simple piece of kit when you strip it down to its component parts, but it has a complex technical specification regarding its purpose and output.
Here buyers receive the 2000w Pure Sine Wave inverter, 2 sets of 7 AWG 2 Foot (60 cm) Battery Cable and a remote wire controller. It is designed to offer peak power of 4000w with 12v DC input, 120v Ac output and a conversion efficiency of 90%. Does this kit offer everything that users are after?
Click Here to See Best Current Price and Read Customer Reviews on Amazon
What benefits have buyers seen when testing out the potential of this MicroSolar Pure Sine Wave Inverter?
There are a number of online comments talking about the power of this heavy duty model. Users have hooked it up to all kind of appliances and systems and seen great, consistent results. The other positive aspect of this machine is that it seems to be pretty tough and durable.
With a few notable exceptions, which are mentioned below, the unit is able to offer a strong, reliable performance for as long is it is required. There are the odd comments about the product giving up after 6 months or so, but most users seem confident that this inverter will last for a long time and continue to work on anything they need.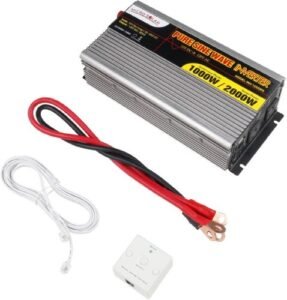 The added benefit here is the use of the fan. Some say it take a little while for the fan to come on but, when it does, it helps to keep the system cool and effective.
In addition to this, there are comments suggesting that with or without the fan, the product is pretty quiet. Buyers expected a slight hum because of the power but it turns out to be pretty silent.
What drawbacks have users mentioned when reviewing this Micro Solar 12V 2000W Pure Sine Wave Inverter?
The biggest problem with this sine wave converter is the sense that buyers really have to know what they are doing. There are comments from users that suggest that this far from a "plug and play" model and some have had some bad results. On one side of the reviewers you have those that power everything they need perfectly with no incidents.
On the other, there are those that saw the device cut out on seemingly simple appliances like hair dryers. It is important that buyers see the number of cautions and warnings in the product description about start up surges and peak surges for different appliances. High dryers have high peak surges and air conditioners need a high start up surge to get going. Buyers that don't realise this could have a few problems.
Summary: does this negative side of the MicroSolar 12V Inverter mean that it is not recommendable?
The final verdict here is that this unit is recommendable, but only in a safe pair of hands. It seems to be true that buyers do require some research and experience with electricity and power surges before getting their hands on this thing. The MicroSolar solar inverter is powerful, well-built and highly functional when it works as planned. If you know how to handle it, there is no reason why it shouldn't prove to be a useful, worthwhile purchase.
You can check out more customer reviews about the MicroSolar 12V 2000W (Peak 4000W) Pure Sine Wave Inverter with Battery Cable & Remote Wire Controller on Amazon here.