Is The Human Creations Solar Pool Purifier As Effective As Buyers Hope?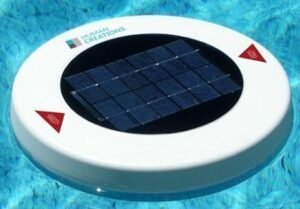 The Human Creations Solar Pool Purifier is an interesting piece of kit for anyone that struggles to keep their pool clear of algae and wants to reduce the money spent on expensive pool pumps and chlorine treatments.
This solar powered system sits on the surface of the water and releases copper ions to kill any lingering algae and bacteria. It comes with the promise that it can reduce the need for chemicals by 80%, but its this simple solar device as effective as buyers hope?
Check Price and Availability Here
What benefits have buyers seen when using this Human Creations Purifier in their pools?
There are plenty of positive reports about the results that have been seen after using this device. Some owners of larger pools were worried that the action would not be strong enough to prevent their pool from turning green while they were away, but they returned to a clear pool.
Some were a little concerned that the ion levels of the water need not seem as strong as expected, but they were able to lower the amount of chemicals and chlorine that they added to their water and saved a little energy by reducing the action of the pool pump.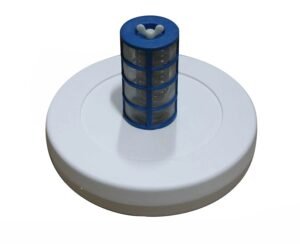 This benefit of saving energy and money is of course enhanced by the fact that this is a solar powered model. There are no running costs to consider, just some basic maintenance and cleaning to keep it in working order, and some say that it quickly pays for itself. The problem here is that the machine may not be as user-friendly and long lasting as some buyers would hope for.
What are the downsides to choosing this Human Creations Solar Pool Purifier?
There are two clear issues that come across in reviews for this system: the need for maintenance and the potentially short life. Some users still offer a 5 star review to this product, despite the need for cleaning and adjustments, because the results justify the actions. The problem is that the internal parts can become corroded pretty easily and some buyers believe that you will be lucky to get more than a year's use out of this device.
Others, meanwhile, simply mark the product down for the quality of the construction. There are many positive reviews from users that have just put the device in their pools and seen quick results. Perhaps the overall customer satisfaction score would be lower if more people has waited a month or so to review it.
Summary: is this Solar powered Pool Purifier still recommendable with this negative feedback in mind?
There are two ways of looking at this product. On the one hand, it is able to save pool owners a lot of time and money by reducing the amount of energy and chemicals they need to clean their pool. On top of that, the results are pretty impressive and the product is simple. The problem is this idea of durability and longevity. This Human Creations solar pool product is not a long-term solution, but it is still a great approach to a common problem and has its clear benefits when it works.
You can check out more customer reviews about the Human Creations Solar Pool Purifier on Amazon here.