Is The Goal Zero Sherpa 100 Solar Recharging Kit The Rugged Outdoors Model That Buyers Expect?
The Goal Zero Sherpa 100 Solar Recharging Kit with Nomad 20 Solar Panel looks like a pretty simplistic kit for all those that want reliable, simplistic charging on the go. There is a power pack, a Nomad solar panel and the Sherpa inverter.
There is a clear focus on camping in the sales pictures and claims with the promise that it is as "rugged and adventurous as you need it to be".  As this is a Goal Zero product, there are sure to be plenty of high expectations for keen, brand-loyal customers. Is this kit able to live up to these expectations, or does it fall a little short?
Read reviews & check price here
How beneficial has this Goal Zero Sherpa Solar Recharging Kit been in these camping situations for a reliable charge?
There is the sense here that this solar charger has most of the features that buyers will need for small-scale charging in a remote environment. The kit is small and portable for use on the go. There is the folding solar panel to make the most of the sun' rays, but also to fold up for transportation.
Most buyers are also happy with the versatile range of ports on offer, which include the smart USB ports, a 12 Volt port for lights, a detachable AC inverter and what the makers call an "innovative" port for laptops.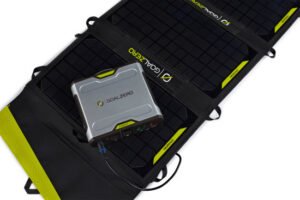 This should cover most of the basics. It also comes with a wall charger to charge the kit back up at home. Then there are the positive comments from those that say that it works well in this environment. It is tougher than some other models and should hold up to the elements fairly well.
What problems have users experienced with this Goal Zero Sherpa 100 Recharging Solar Kit that might limit the appeal in some way?
The first potential issue here is that this Goal Zero Sherpa solar charger is on the lower end of the scale when it comes to power and potential for charging. It will charge up a phone, tablet or laptop with the right connection and enough power. However, this is only a 20w solar panel, so much weaker than some other models out there.
Also, there is a warning from the manufacturers that this model will not run a DC convertor, which could have an impact on the plans of some users. As a result, there are some low rated reviews from those that say it is not fit for the purpose that they have in mind.
Summary: what does this all mean for a final recommendation on this Goal Zero Sherpa 100?
It seems that this kit does a great job of living up to that sales claim of "rugged and adventurous" based on the positive comments from all those taking it camping or on survivalist training missions. The charge is more than adequate for basic needs and the durability and portability of the devices help too.
This Goal Zero solar charger is a great tool for all those in these situations that want the basics in a well-made, reliable model. It isn't the most powerful around, but it doesn't really need to be.
Find more reviews about the Goal Zero Sherpa 100 Solar Recharging Kit with Nomad 20 Solar Panel here.