Is The Bendable Dokio 200w Monocrystalline Solar Panel Tough Enough?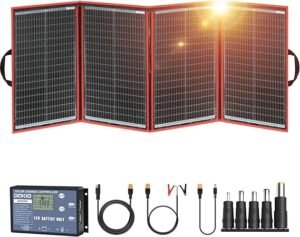 The Dokio 200 Watts Monocrystalline Solar Panel is sold as the ideal solution for campers and backpackers that want a convenient solution for their travels.
There are also promises that it should meet the needs of many people with RV campers and boats.
It promises 200w of power via high efficiency monocrystalline cells. This is designed as a robust, durable, lightweight and bendable solution, but does it deliver on these claims.
Check Price and Availability Here
The Pros and Cons of this Dokio 200w Solar Panel:
Pros:
great portability with the folding shape and case
great potential for installation with the light weight and tough, bendable cells
great reviews from campers after a simple solution
Cons:
some limitations with the power offered
could do with some improvements with the handle and inverter
There are some nice aspects to the design of this Dokio 200 W Folding Solar Panel that are great for backpackers.
The main benefit here is the portability. This model is foldable. This is an important detail with portable solar panels. It means that users can travel with an item and pack it in their backpack, without losing too much surface area on the device when it is time to power their electronics.
The portability with this model continues with the fabric case. It is also just 0.2 inches thick and 10.5lb in weight. The bendable material means that it also has potential on the roofs of camper vans and the sides of boats.
There are some mixed reviews on the power. It is not as powerful as some had hoped for. There are a few that see a low amp reading from the panels, even on the sunniest days in full sunlight.
Others says that the panels are brilliantly reliable for their camping needs. It depends on the purpose of the trip and pressures on the system.
It is much better as a simple set up for a camping trip. Some of the complaints come from those looking to power their boats for a week.
There are still some areas where the designers could make some improvements to this Dokio 200 Watts Monocrystalline Solar Panel.
There are some issues with some of the additional elements to this 200 watt solar panel. The first is the free inverter. There are some questions over the make and quality, as well as the use of a 10 amp inverter on a product that has an optimum operating current of 11.2A.
There is also a problem with the carry handle. This handle means that users can also hang up from an appropriate point on site. The trouble is that it falls down too often for some people liking and wont hold up to bad weather.
What does this mean when determining a final recommendation on this Dokio Portable Monocrystalline Solar Panel?
There are areas where the company could make some improvements here. A stronger installation solution for the boats and tents would help. Others would like to see a little more power given the issues with the inverter. Even so, there is great potential with this model for campers and backpacker.
The highlight here is that portability and lightweight with the folding shape. This means that many individuals looking for a simple charging solution will appreciate the Dokio solar panel.
Find more reviews about the Dokio 200w Monocrystalline Solar Panel on Amazon here.