Is The Modern Coolis Portable Solar Power Inverter Generator Able To Handle The Needs Of Its Users?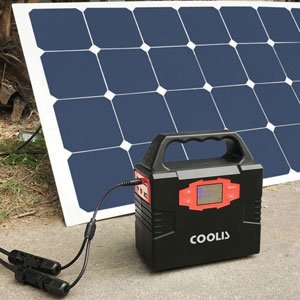 The Coolis Portable Solar Power Inverter Generator is an interesting looking device because it instantly appears to be more than just a typical inverter generator.
This is classed as a "multi-functional" system with a range of output options for solar charging in camping and RV situations.
There is an LED screen for data on charging and battery usage, a 40800mAh(150Wh) grade A lithium polymer battery and all the right connecting cables. Does this offer a little more than the average system?
Click Here to See Current Price
What benefits have been mentioned in online reviews for this Coolis Solar Powered Inverter Generator ?
There is the clear sense from the testimonials for this device that there are many people enjoying an improved off-grid experience with the aid of this device. The powerful, clean inverter is able to provide enough power to important appliances. It can't do a lot at once, but there is a strong connection of safe power to those items that need it most.
This is important for electronics like laptops, which need a lot of protection, so buyers appreciate the current and temperature protection. They have even improved the ease of charging with the addition of the solar panel adapter cable to the wall charger ad 12v charger. They admit that this solar option isn't great, as it can take a couple of days, but the wall charger takes just seven hours.
Then there are benefits of the general design of the system and its size. This is a pretty modern approach with a lightweight, portable design.
There is a nice screen for data on the front, a handle on the top for portability and a series of ports for cables and charging leads on the back..
Are there any important issues with this Coolis 150Wh Portable Solar Inverter Generator that cause any problems for users?
You can tell that a product is doing pretty well with its core consumer base when buyers start writing about the small details they would include if they were the designer, rather than any real problems. This is all wishful thinking for the ideal product. One example here is the visibility of the system at night.
The display is pretty good and informative, but some feel it would be easier if the buttons were back-lit. Others would like to see a replaceable battery because of the life of the battery doesn't appear to match the long life of the unit.
Finally, there are those calling for a better manual than the one that appears to be in poorly translated Chinese. Still, the unit is easy enough to understand that most don't need it.
Summary: does this all mean that the Coolis Solar Inverter Generator is highly recommendable?
It is easy to recommend this system after all the positive comments and the interesting features on board. There are plenty of buyers stating that this is the best generator they have ever used, the ideal product for their needs and simply "amazing".
The wealth of comments makes it difficult to suggest otherwise, and the small minority of negative reviews about minor complaints seem insignificant. This is a great tool for anyone that want a reliable, easy to use system for effective solar power transfer. The Coolis solar inverter generator is modern, improved and ready to handle the job.
Find more reviews about the Coolis 150Wh Portable Solar Power Inverter Generator on Amazon here.