Does The Renogy Monocrystalline Solar Panel Bundle Offer A Great User Experience Under All Those Technical Specs?
First impressions of the Renogy 200 Watts 12 Volts Monocrystalline Solar Bundle Kit show a simple set of two panels and a controller with a great technical specification and a great function for those out on the road or the water.
It uses two "premier" 100w monocrystalline solar panels, a 30 amp PWM controller, adaptor kit and branch connector to charge vehicles as big as RVs and even boat batteries.
Click Here to See Current Price
Some Noted Features of the Renogy Monocrystalline Solar Panel Bundle
2 Premier Renogy 100Watt monocrystalline solar Panels
30Amp PMW Charge Controller
Expandable up to 400W 12volts and 800W 24volts.
Withstand high wind (2400 Pa) and snow loads (5400 Pa)
1 pair branch connector
1 pair 9inch adapter kit
Excellent performance in low light environments
Are buyers impressed with the capabilities of this Renogy Solar Panel Bundle and what other advantages have they noted in their reviews?
Perhaps most importantly of all, to begin with, these panels do work on the applications mentioned and do so with ease and great conversion of solar energy. RVs and boats are both mentioned by buyers and they say the panels delivered as advertised when tested in full sun and even though here was a little drop off when the clouds came over, it was not so much that buyers could complain.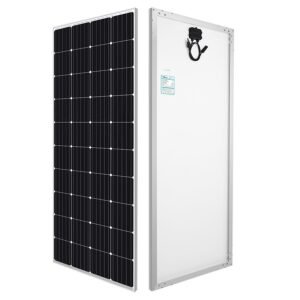 Additionally, buyers like the fact that the Renogy Monocrystalline Solar Panel is easy to set up yet still seems to be highly durable. One buyer says it took twenty minutes from taking them out the box to starting to charge his RV batteries and others highlight the strong aluminium frame on the panels. The panels are heavy and solid, apparently able to withstand high winds and snow, and buyers have the confidence that they will stay put.
What is interesting about this Renogy solar power product is that it is rated a respectable 4.5 out of 5 on Amazon yet the negative comments received show that there is an important flaw to this bundle. There are buyers that talk about the great power produced from this top quality panels for a low cost and that feel there is a sense of value for money; however, this low cost does reveal a flaw.
What is wrong with the rest of the Renogy Solar Panel Bundle and what flaws have users highlighted?
There is a trend in some of the lower rated reviews that is hard to ignore. They say that the panels are worth five stars but the controller brings the over product down to three or perhaps even lower.
This poorly-constructed charge controller feels a bit cheap in comparison, especially when some buyers say that the LED covers have started falling off and it was a bit battered straight out of the box, and the additional fact that it is not all that secure has lead some to doubts about its reliability. At this point it is also important to note that the cable and plugs that most buyers will require are not included.
Some buyers have complained and they are happy to find that they will receive a new cover, no questions asked, but it appears there is an important reason behind Renogy's generous nature. One reviewer has quoted from an email from the company which says "we agree that the solar charge controller PWM type is quite weak as it has only basic function".
This is quite alarming as the issue is not just a case of disgruntled customers looking for freebies because the company is now openly admitting its own flaws and the poor quality of its goods.
Summary: if there is such a massive flaw that even the company are admitting to, why is their Solar Panel Bundle being rated so highly by users?
The confession from Renogy can be viewed in two ways; on the one hand they are transparent about their flaws and are not trying to make this weak element sound better than it is; on the other they are aware of the cut corners and giving weight to buyers concerns over quality.
The product is problematic and it is a shame that this controller is such an issue because something with a better quality and more features would match the great panels and turn this into a high-end 5 star product.
In the end, this Renogy solar panel is still a highly rated product despite the rubbish controller and many buyers are able to ignore it or simply replace the controller and concentrate on the positive elements of the panels. Buy the kit for the panels, swap the controller for an MPPT with better reliably and functions and you will be all set for great power and charging.
You can check out more customer reviews about the Renogy Solar Panel Bundle at Amazon here.