Is The Renogy KIT-FIREFLY 20W All-in-One Solar Generator Kit Really Good Enough To Help In An Emergency?
The ability to provide power on the go is a must for many backpackers and preppers and the Renogy KIT-FIREFLY 20W All-in-One Solar Generator Kit is therefore an interesting prospect with its portable shape and high-end specification. With this kit, users should be able to charge a range of electronic items in the wilderness via strong, simple connections.
The product has two Renogy 10W solar panels, a 16Ah lithium polymer battery, a 10A Firefly internal charge controller and is designed to handle any USB or AC device under 150w and offers 175 Wh of energy. Is this the user-friendly "plug-and-play" system that is advertised?
Click Here for Best Current Price
What benefits have been highlighted in positive reviews for this?
One of the main selling points of this system is the way that it is designed to produce power in an emergency situation. Not only is in an "all-in-one" model that is able to bring power to a range of essential gadgets. There is also the inclusion of the LED flashlight with SOS function, the rugged casing and the carry handles for portability in remote areas.
Some go as far as using the word craftsmanship to describe the construction. It has powered everything from phones and laptops to ham radios so definitely seems like it would be a great aid in a true emergency.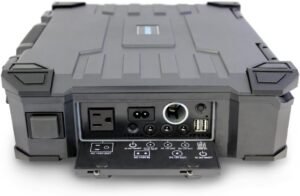 The other appealing aspect of this system is the way that it has been designed as a more modern, user-friendly version of the traditional generator kit. This is seen in the range of outputs for different appliances, but also in the LCD display and the fact that it can be upgraded with an additional solar panel.
Some say that this additional panel can make a big difference to the output, but it doesn't appear to be a necessary purchase for everyone. There are some that use the standard panels alone out of direct sunlight and still have enough power for their electronics.
Are there any clear drawbacks to using this product?
At the time of writing this review, an impressive 86% of buyers had given this product the full 5 stars. This shows that this product really is living up to the majority of its sales claims.
In many ways, some of the criticisms are quite picky – such as those that dislike the size of the knobs and those that point out that it won't run larger items . This is mainly because the system is as functional and easy to use as advertised. One small omission that would ensure a perfect score here is the lack of a storage area for the cables.
Summary: does this lack of negative feedback mean that the # is highly recommendable?
This kit is designed to suit all kinds of users in all sorts of situations – from camping to real emergencies – and it seems to have that mass appeal. Buyers seem to be in agreement that is reliable in any situation and there is a lot of trust in the tough construction, the power output for multiple items and the quality of the panels. This Renogy solar kit really can provide quick, simple power when needed and this is only enhanced further by the user-friendly additional features and controls.
You can check out more customer reviews about the Renogy KIT-FIREFLY 20W All-in-One Solar Generator Kit on Amazon here.